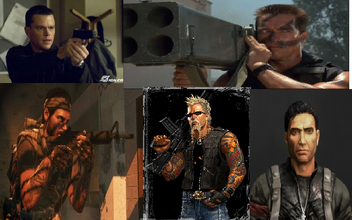 The Covert Killers: A group of the best Commandos and Mercenaries in the world, from the 1960's to today, vs.
The Crafty Criminals
: History's most infamous cut-throats, from the 1760's to today.
WHO....IS....DEADLIEST!?!?!?
Shortly afterward, he joined an outlaw biker gang known as the Wolfpack Brotherhood MC. Under his influence, the Brotherhood went from being a mild irritant to the Swedish authorities to becoming a host of the most wanted criminals of the nation. Mattias himself became infamous for his violent exploits and adrenaline-fueled stunts. Mattias began a war between the biker gangs by inflitrating army bases and stealing equipment which he used against rival biker gangs. He was eventually captured by the Swedish authorities, but never one to be chained down, he escaped while being transferred to another prison.
Now a fugitive in his native Sweden, he realized he could not remain there. He left the country and became a mercenary. Mattias has served in conflicts around the world. The so far known ones are Kosovo where he worked alongside Josef, North Korea, Montenegro, East Timor, Senegal alongside fellow mercenary Blanco and most recently Venezuela.

| | |
| --- | --- |
| Long Range | Jason Bourne's Bushmaster Dissipator AR-15 |
| Mid Range | Frank Woods's MP5K |
| Close Range | Rico's Signature Gun |
| Special | John Matrix's Throwing Knifes |
| Explosives | Mattias Nilsson's RPG-7 |
In a skyscraper in LA, Pablo Escobar, Al Capone, Jesse James, and a high-ranking member of the Triad are haveing a meeting. Meanwhile, a member of the West Side Boyz is on guard outside with a L16 81mm Mortar. Suddenly, a millitary helicopter lands on the roof! Jason Bourne, Frank Woods, Rico Rodriguez, John Martrix, and Mattias Nilsson jump out. They have been asked by the US Government to stop Escobar and the others. The West Side Boy sees the heli and destorys it with his mortar, but not before the others are able to take cover. Nilsson pulls out his RPG-7 and uses it to kill the West Side Boy.
The Killers head down to the room where Escobar and the others are. Frank Woods throws a Flashbang in the room. In the confusion, Escobar fires his Uzi randomly, but doesn't hit anyone. Woods, on the other hand, kills him with his MP5K.
The Triad answers back by killing Woods with his Type 56.
The Triad knocks down attackers with the butt of his rifle, so that he, Capone, and Jesse can escape. Jesse and Capone are able to get away, but Bourne is able to shoot the Triad in the back with his own assault rifle.
The Killers decide to split up, Rico and Bourne go after Jesse, and John and Nilsson go after Capone. The first group tracks Jesse down to an employee lounge. Bourne walks in and is shot to death by the infamous bank robber.
Rico then kills Jesse with his own sidearm.
Crafty Criminals
Rico goes to find the others. Meanwhile, with the second group, John and Nilsson have found where Capone went. Nilsson goes into a dark room, but is stabbed by Capone.
Capone charges at John. John throws some of his knifes, but they miss. They soon get into a fight, and it looks like Capone is going to win by beating John to a bloodly pulp. But then, he falls over. John looks behind him. Rico shot Al Capone in the eye.
Rico and John silently sneak off.
Winner: Cover Killers
Ad blocker interference detected!
Wikia is a free-to-use site that makes money from advertising. We have a modified experience for viewers using ad blockers

Wikia is not accessible if you've made further modifications. Remove the custom ad blocker rule(s) and the page will load as expected.