Teenage Mutant Ninja Turtles
Comments

7
2,786pages on
this wiki
Teenage Mutant Ninja Turtles
Members

Leader: Leonardo

Donatello

Raphael

Michelangelo

Weapons

Leonardo: 2 Ninjato Swords

Donatello: Bo staff

Raphael: Sai's

Michelangelo: Nunchucks

Ninja Stars

Powers

Each turtle posses enhanced mutant strength, thanks to the mutagen that mutated them.

The 15 years of intense ninja training combined with their mutant powers makes each of them even stronger, faster, and super skilled. And, as the years go by, they become more and more skilled in all the martial arts.

Trained in Ninjitsu, and Combat Martial Arts.

Origin

Teenage Mutant Ninja Turtles

Activities

Battling Crime, Fighting The Shredder and his Foot Clan, Fighting Alien Invaders.

Service

Since their Mutation-Ongoing

Battle Status

Victorious over The Furious Five.
"

Turtle Power!

— The Teenage Mutant Ninja Turtles (1987 Series)

"
"

It's ninja time!

— Teenage Mutant Ninja Turtles (2003 Turtles)

"
"

We live together, we train together, we fight together, we stand for good, together. We are ninjas. We strike hard, defend, protect and fade into the night. And there ain't no bad guy or monster gonna ever change that. That's what's important. That's why we'll always be...brothers. Oh, I love bein' a turtle!

— Raphael (2007 Film)

"
The Teenage Mutant Ninja Turtles (TMNT or Ninja Turtles) are a team of four anthropomorphic turtles, who are trained by their sensei, Master Splinter, to become skilled ninja warriors. From their home in the sewers of Manhattan, they battle petty criminals, evil megalomaniacs, and alien invaders, all while remaining isolated from society at large.
Team Members
Edit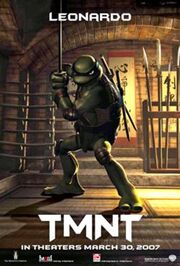 The de facto leader of the Turtles, Leonardo is courageous, decisive, and a disciplined student of martial arts. As a strict adherent to Bushido, he has a very strong sense of honor and justice.

Leonardos main weapons include the Ninjaken (Ninjato) Swords which he has used throughout his youth, into his adolesence. He carries two just incase if one breakes, he has one to use as a back up. 
DonatelloEdit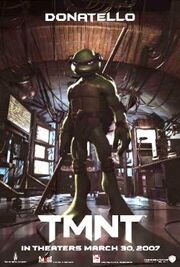 The inventor, and technology geek, Donatello has a reputation as something of a smart aleck. He is perhaps the least violent Turtle, preferring to use his intellect to solve conflicts.
Donatello is typically the calm, logical Turtle. He is often in good terms with all his brother and seems to be very close to Michelangelo. Donnie is described as the "brain" of the TMNT, he is fairly studious and industrious, and a reasonable "Mr. Fix-It".
Donnie uses his Bo staff when he goes into battle. It is long so he can use it to swing, and take down more than one foe at the same time. Don can also use any gadgets that he builds and programs himself.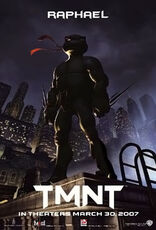 The teams "Hot-Head", Raphael has an aggressive nature and seldom hesitates to throw the first punch. He is an intense fighter His personality can be alternately fierce, sarcastic, and full of angst, and oftentimes delivers deadpan humor. Still, he is good-hearted, willing to protect others and is intensely loyal to his brothers and sensei.

Raph's weapons are two twin sais. Both weapons he not only uses to fight, be he also uses them to climb, much like Donnie and his Bo staff. Also like Donnie, Raph can use one Sai to take down one foe, while the other takes down another. 
Michelangelo
Edit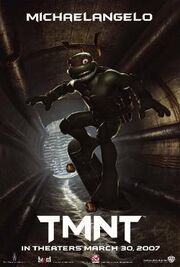 The easy-going and free-spirited Michelangelo provides much of the comic relief. While he loves to read comics and eat pizza, this Turtle also has an adventurous side.

Mike likes to use his Nunchucks in battle with the other turtles, which can spin fast and whip people several times. 
The Furious Five of the TMNT? Lets find out......
The 4 Ninja Turtles, Splinter and Casey Jones walk through a Chinese city. They pass the Furious Five's training center. Po and the 5 see them and attack. They throw throwing stars at Casey as he charges after them, killing him.
TMNT- 5
Mantis and Splinter fight. Splinter hits him with the 3 section staff to wound him then steps on him to kill him.
Furious Five- 5
Donatello and Michelangelo corner Viper. Viper hits Michelangelo and knocks him down but Donatello slices through her with the Ninjato.
Furious Five- 4
Tiger and Crane run outside of the building. They hide behind cover. Donatello is spotted carrying Mikey and they are both killed by Curved Swords.
TMNT- 3
Crane is spotted running back into the building by Raphael and killed shortly by Nunchakus.
Furious Five- 3
Po and Monkey split up. Monkey battles Raphael and Monkey knocks Raph down with the Gun Staff. As Monkey attempts to kill him, he hits his head with Nunchakus and Monkey falls dead.
Furious Five- 2
Leonardo and Splinter split up to find Po and Tiger. Tiger spots Splinter and sneaks up to him with Metal Pans. Tiger swings the pan but Splinter dodges. He uses a Bo Staff to defend himself. Tiger lands a good 2 shots on Splinter's head as he dies.
TMNT- 2
Leo and Raph find a sewer and hide in it. Po and Tiger jump in and see the 2 brothers running away. The Curved Sword and Nunchakus meet. Raph blocks Tiger's slashes and lands a shot on the leg to distract her then a headshot to kill her.
Furious Five- 1
Po immediately runs toward Tiger's dead body. He kicks Raph back and picks up Tiger's sword. He slashes it to cut Raphael's head in 2 and he laughs.
TMNT- 1
Po breaks for cover. Leo sees him and uses Ninjutsu to attack. He is heard by Po swinging his Ninjato and Po dodges. Po Wheel Kicks Leo, sending him back. Po can't see where Leo ended up. He walks toward the spot where he believes Leo is. Leo then jumps up and cuts Po's stomach and head in half killing him. Leo laughs and walks away.
Furious Five- 0
WINNER- TEENAGE MUTANT NINJA TURTLES
Expert's Opinion
Edit
TBW
To see the original battle, weapons, and votes, click here.
Disregarded Battles
Edit
Battles here were deemed to be unfair or otherwise not in accordance with wiki standards, and have been removed from the statuses of the warriors and displayed below.
WHO IS SPORT SHOUTING'S FIRST ANCIENT CHAMPION? Let's find out.
The 4 Ninja Turtles are eating pizza in a jeep. 4 Romans admire the car and Mikey spots them. He drives the car and it plows through a Roman. Caesar- 3. The Romans form a Phalanx and charge after the now out of the car turtles. A Roman throws a pilum and kills Donatello. TMNT-3. Michelangelo picks up his bo staff and duels the killer. The killer retreats and gets the longer hasta. But it fails and Mikey's staff breaks the Roman's skull and kills him. Caesar-2. Mikey's win is short lived as a Roman cuts through his back with a dolabra. TMNT-2. Raphael sees the murder of his brother. Tears run down his eyes. He screams and runs after his killer. Raph blocks a chop with nunchakus. The Leonardo jumps and hacks through the Roman. Caesar-1. Caesar hides and sees Raphael and Leonardo split up. Raphael passes Caesar and Caesar and Raphael duel. It goes on for several minutes until the Crocea Mors is in his neck. TMNT-1. Leonardo tiptoes over to Caesar. A bag of chips was in Raphael's pocket and Caesar investigates the bag. Just then, Leonardo slowly cuts through Caesar's neck to win the fight. Leonardo picks up the chips and the Crocea Mors to keep for himself.
ANCIENT CHAMPION- TEENAGE MUTANT NINJA TURTLES
Expert's Opinion
Edit
TBW
To see the the original battle, weapons, and votes, click here.