Lasifer/Sandbox
Talk

0
2,772pages on
this wiki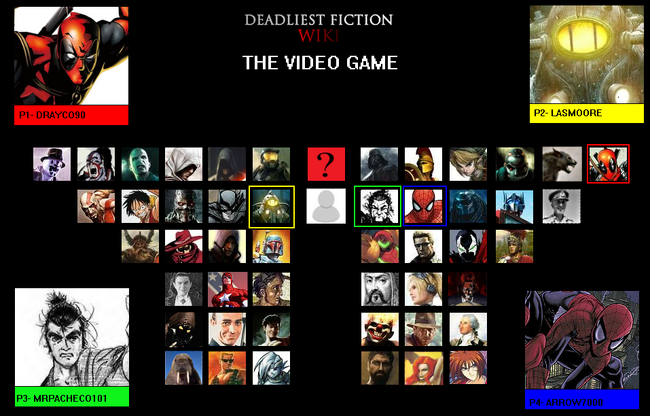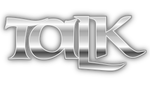 Abraham Lincoln vs. Gabriel van Helsing
Edit
Hellstorm serves up an action-packed, "mono e mono" vampire hunter duel! Abraham Lincoln, before his presidency, a vampire killer hellbent on avenging his friends and family! Gabriel van Helsing, vigilante monster hunter dispatched by The Holy Order to kill Dracula! Both of these vampire slayers are resourceful, intelligent, and skilled, but only one of these cunning warriors will come out on top as... the deadliest warrior!
Hellstorm brings you a battle of the sick-and-twisted leaders and their groups in this brutal apocalyptic battle! The Joker Gang, lead by the infamous Joker who managed to bring Gotham City down to it's knees and show it's true colors! The Governor's Woodbury Army! The organized para-military soldiers lead by the brutal sick-and-twisted Governor! In this battle of brutality it's going to come down to the warrior's weapons, group, and skills to prove once and for all, who is, the deadliest warrior!
The Joker Gang (represented by the Doctor)Edit
The Joker Gang was a group of criminals, in part a combination of small-time robbers and mentally-ill escapees of Arkham Asylum, who served under the Joker. 
| Category: | Weapons: |
| --- | --- |
| Close Range | Extractor 1600 OTF knife, Crowbar, Glock 17  |
| Mid Range | Sawed-off Remington 870, MAC-10, Beretta PM12S |
| Long Range | AKMSU, M16A2, M1 Garand |
| Special Weapons | Norinco Type 69, M67 Grenades |
Gallery here.
The Woodbury Army was a massive group of armed Woodbury citizens rounded together by The Governor in order to kill Rick Grimes' group for the Prison, and for his own personal vengeance against the group. Philip, better known as "The Governor", is a survivor of the undead apocalypse who is in command of the fortified town of Woodbury after the outbreak. 
| Category: | Weapons: |
| --- | --- |
| Close Range | Bowie knife, Baseball bat, Beretta 92SB Nickel |
| Mid Range | Remington 870 Police Magnum, MP5K, IMI Uzi |
| Long Range | Colt Law Enforcement Carbine, Type 56 |
| Special Weapons | Browning M2HB, M203 Grenade Launcher |
Gallery here.
Notable Members
Edit
The Joker Gang
Edit
The Joker: Joker is depicted as a maniacal criminal mastermind who terrorizes Gotham City and whose goal is to plunge it into anarchy. The Joker has been described as a "psychopathic, mass murdering, schizophrenic clown with zero empathy." The Joker is a genius at planning and improvising criminal activities. He is incredibly intelligent and calculating, always staying one step ahead of everyone else, including Batman and the police. His unique worldview, as well as the complete mystery surrounding his identity also give him something of an edge. He is also shown to be a skilled, fearless, and unpredictable fighter, taking on mob henchmen and cops with ease, and showing how he can be lethal with many forms of weaponry.
Dopey is an alarm disabler, who allowed the rest of the buglars to break into the bank. His mask features a drooping nose with blue paint on the tip, and red paint around the eyes and mouth. A tuft of brown hair sprouts at the top of the mask.
Happy is a vault opener, His mask features a puckering face with blue paint around the mouth and eyes, and red paint on the nose and eyebrows, with a decent head of red hair sitting on the top of the mask.
Grumpy is one of the three bank robbers who broke into the bank. His mask features a grotesquely smiling face with a tuft of multicolored hair on the top and blue makeup around the eyes.
Chuckles the second of the bank robbers and was the only clown uninvolved with the betrayal. His mask features a face with bared teeth, blue paint around the eyes in a plus or cross pattern, and small blue eyebrows.
Thomas Schiff came under the "employment" of the Joker after being released from Arkham Asylum by Ra's Al Ghul. The Joker used Schiff as a calling card in his scheme to harm Rachel Dawes and Harvey Dent. He disguised himself as an Honor Guard during the funeral of Commissioner Loeb and was shot in the leg when he attempted to escape.
X-Factors
Edit
Consider these following X-Factors when casting your vote:
Psychological Warfare
Which warrior is more mentally susceptible to the other's attacks? 
Strategy
Which warrior can form a more solid game-plan beforehand, and which warrior is more adaptable to changing their plans if things go south?
Combat Experience
Which warrior has more experience fighting other combat-capable warriors?
Endurance
Which warrior can sustain physical damage for a longer amount of time before giving in?
Intelligence
Which warrior is more intelligent in the battle space? Which warrior will be able to figure out their foe and exploit their weaknesses first?
Creativity
Which warrior will be able to use the environment and any other X-Factors in the area to their advantage more successfully?
Weapon Use
Which warrior is more skilled in the usage of their weapons?
Brutality
Which warrior is more physically brutal in the battle space?
10-v-10
The Joker Gang is looking for shelter during the Zombie Apocalypse when they come across Woodbury. Theybarge in killing citizens hoping to take over, but little do they know the Governor has a force of his own...
Votes with at least five complete and relevant sentences or votes with edges count as a full vote.
Votes with one sentence do not count.
All other votes count as a half vote.
Any well-reasoned counter-arguments that aren't subjected to a well-reasoned rebuttal can lower a vote by half a point or nullified completely.
Now...VOTE!!!!!
Hellfury S4
Edit
We've managed to pull through and survive the Hellstorm, but Beelzebub's wrath has come back again, and has brewed up a Hellfury! The spirtual successor to Hellstorm is here, and bringing you more violence and carnage than ever before! 14 new fights are here, and only 14 warriors will come out victorious as ... THE DEADLIEST WARRIOR!
RED Team vs. General Grievous
Edit

Intro TBA.
RED (Reliable Excavation Demolition), a subsidiary of TF Industries, allegedly specializes in "demolition operations". In reality, from behind a myriad of sub-fronts, it secretly controls half of the world's governments. RED is led by founder and CEO Redmond Mann. Beneath the convincing exterior of their bases of operations can be found computer racks, satellites, rockets, and missile installations.
The other half of the world is just as secretly controlled by their rivals, BLU (Builders League United). Each corporation administers its half of the world with a multi-disciplined army of paper pushers. For any problem lacking an obvious bureaucratic solution, mercenaries are contracted to address the situation through a massive application of force. Conflicts between the two companies began as land disputes between their leaders, and have continued for about a century to the present day. RED and BLU share an intense rivalry, with nearly all encounters between the two quickly escalating into brutal and often fatal violence. Inter-company friendship is also strictly forbidden by contract.
Despite this, the RED Demoman and the BLU Soldier at one time became fast friends after meeting each other at a projectile weapons expo. Once this was brought to the attention of the Administrator, however, she pitted them against each other in a deadly competition that promised a mysterious new item to the winner, twisting their former friendship into a bloody war. RED favors a more rustic style of architecture than BLU. RED's dress code, however, is rather liberal, requiring that employees adopt a red motif for easy identification. This could also be for identification by Sentry Guns.
Offensive
Edit
Offensive classes (Scout, Soldier, and Pyro) are the main attack force of the team. Whether it's assaulting Control Points or grabbing the Intelligence, these classes focus on mobility. Scouts have the ability to capture points twice as fast as any other class and can get there with their top-tier speed and double jumps. Soldiers pack a punch with their devastating Rocket Launchers, and can attack from unexpected directions by rocket jumping. Pyros can wreak fiery havoc in enemy ranks with a well timed ambush or extinguish their own burning friends, and offer the highest speed/health ratio of all classes (barring buffs or nonstandard equipment).
Defensive
Edit
Defensive classes (Demoman, Heavy, and Engineer) serve to inhibit enemy access and to hold enemies back from vital points on the map. Overall, the defensive group has the most firepower of all the groups. Demomen can safeguard areas with stickybombs that they can detonate when enemies come by. Heavies are great for mowing down incoming troops and pushing back forces. Heavies can also keep enemies in an area while whittling their health for teammates to finish off. Engineers can build Sentry Guns for effective area defense, as well as build Teleporters and Dispensers for logistical support of the team.
Support classes (Medic, Sniper, and Spy) cannot hold the fight on their own, but their specialized abilities can tip the balance in their team's favor. They offer the offensive and defensive classes an extra edge in battle and can help turn the tide of the game. Whether crippling the enemy advance from behind or keeping teammates healed, the support classes are always handy to have around. Medics offer a mobile means of healing for teammates, capable of overhealing them to 150% of their maximum health, and can provide a range of buffs such as invincibility, 100% critical hit rate, or 300% healing rate as well as immunity to movement impairing effects. Snipers can eliminate key targets from a distance and use Jarate to extinguish teammates on fire and increase the damage dealt to the enemy. Spies can infiltrate enemy lines undetected, disable buildings, and assassinate critical threats.
General Grievous
Edit
Grievous, born as Qymaen jai Sheelal, was the cyborg Supreme Commander of the Droid Army of the Confederacy of Independent Systems for most of the Clone Wars. Grievous was originally a Kaleesh from the planet Kalee, where he lived his early life. During the Kaleesh conflict against the Huk, Qymaen jai Sheelal quickly learned the art of war, specializing in a slugthrower rifle. Quickly amassing a great number of Huk kills, he became a demigod among his people. He eventually met the female Kaleesh Ronderu lij Kummar, a master with the sword. The two became very close before her death at the hands of the Huk. Heartbroken, Qymaen jai Sheelal renamed himself Grievous and turned all his anger and grief toward the Huk. Aided by his elite, he forced the Huk off Kalee and then swarmed their homeworld, conquering the Huk. The Huk turned to the Galactic Republic for help, and the Kaleesh were forced back to their own world by the Jedi and left to starve. Desperate to help his people, Grievous took a job as an enforcer with the InterGalactic Banking Clan. However, after learning that the Huk had attacked Kalee, he headed home to gain vengeance. After consulting with his ally, Confederate Head of State Count Dooku, IGBC Chairman San Hill arranged for a bomb to be placed on Grievous' shuttle, Martyr. The Kaleesh was critically injured, but lived, and Hill arranged for the final stage of his plan. Grievous was reconstructed as a cyborg and was presented to Dooku as a potential weapon to be used in the upcoming war that the count had planned against the Republic.
After being made Supreme Commander, Grievous proceeded to wreak havoc on the Republic for the three-year–span of the Clone Wars. The general was trained in the art of lightsaber combat by Dooku himself, who was also a Sith Lord. Grievous was a quick study and eventually came to be recognized as one of the most skilled duelists in the galaxy. Aided by his IG-100 MagnaGuards, Grievous killed many Jedi, and led the Confederacy to victory in many battles. Quickly gaining a reputation as a savage, merciless brute as well as a tactical genius, the cyborg struck fear into the hearts of many with his flagship, the ion cannon–armed Malevolence, as well as Operation Durge's Lance, a massive strike at the Core Worlds.
In 19 BBY, Grievous led the Confederate Navy in the Battle of Coruscant, an attack on the Republic's capital. Grievous killed several Jedi and took Supreme Chancellor Palpatine, leader of the Republic, hostage. However, before the general's flagship, Invisible Hand, could jump to hyperspace, the Republic Navy arrived, and the Chancellor was freed by Jedi Knights Obi-Wan Kenobi and Anakin Skywalker, the latter of whom was also successful in killing Dooku. Grievous fled to the Outer Rim world of Utapau and attempted to regain control of the war, though the Confederacy had been dealt a great blow with the loss of Dooku. Grievous was killed shortly after in the Battle of Utapau by Kenobi, and the Confederacy fell soon after. At some point after Grievous's death, his body was used to create the droid warrior N-K Necrosis, who considered himself to be the reincarnation of Grievous. However, the droid was killed shortly after his creation by several spacers.
Duke Nukem vs. Serious Sam
Edit
Intro TBA.
Norman Stansfield vs. Anton Chigurh
Edit
Norman Stansfield
Edit
Anton Chigurh
Edit
Dimentio vs. Fawful
Edit
TBA.
Ash Williams vs. Buffy Summers (Collab w/ BeastMan14)Edit
Hellfury brings you a fist full of Boomstick in this weeks battle of the hunters of the undead! Ashley J. Williams, the infamous time-traveling slayer of Deadites and Hero from the Sky! TBA.
Ash Williams (represented by the Doctor)Edit
Biography
Edit
"

Good. Bad. I'm the guy with the gun.

— Ashley J. Williams

"
TBA.
| Category | Weapon |
| --- | --- |
| Melee | Hand-mounted Chainsaw |
| Ranged | 12 gauge double-barreled Boomstick |
| Special | The Necronomicon Ex-Mortis |
Buffy Summers (represented by da Beast)Edit
TBA.
Biography
Edit
TBA.
X-Factors
Edit
Ash - Buffy
100- Experience -100
75- Strength -85
77- Speed -87
Ellie (The Last of Us) vs. Carl Grimes (The Walking Dead Comics) (Collab w/ Skull)Edit
The Skull of one of many dead soldiers roll through the desolate desert of this dead earth. A cloaked man stands still in the dry and practically lifeless desert, his cape blowing in the sand. The Wandering Skull stops at the feet of none other than the cloaked man, the Doctor. A battle between two young children flashes in the Doctor's eyes.
"Who's skull is this?"
We will find out in this brutal battle between two young survivors of the apocalypse, once children without a care in the world turned helpless killers in a struggle to hold their own in this new, violent world that belongs to the dead.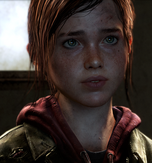 "

This is our routine. Day and night, all we do is survive; it never lets up. He tells me how these streets were crowded with people just going about their lives... must've been nice.

— Ellie

"
Ellie was born sometime in the year 2019, six years after the spread of the fungal pandemic. As a result, she grew up in an oppressive military quarantine zone in Boston, Massachusetts with little knowledge of the world prior to the incident. For a time she was raised by mother, Anna, and Marlene. When her mother died, Marlene continued to look after her, a promise she made to her mother. In the year 2033, now aged 14, Ellie meets Joel, a survivor who successfully smuggles her out of the quarantine zone in Boston in order to bring her to a secretive group known as the Fireflies so he can fulfill a final request from a dying friend.
| Category | Weapon | Stats |
| --- | --- | --- |
| Melee | Switchblade | |
| Secondary | Beretta Model 70 | Semi-auto, fires .32 ACP rounds, 8 round magazine |
| Primary | Bolt-action rifle and Bow & Arrow | |
"

I'm worthless now.

— Carl on his eye disability

"
Carl Grimes is the son of Rick and Lori Grimes and brother or half-brother of Judith. He joined Shane, along with his mother, to travel to Atlanta, Georgia for the refugee camp. As time goes on, he slowly becomes hardened due to the severe loss of life around him. While only seven years old when the dead began to rise, Carl quickly became adapted to the new world, proving himself a good shot for his age, similar to his father.
After Zombies invade the Alexandira Safe-Zone, Douglas Monroe, a survivor, begins haphazardly shooting zombies. As he is overtaken by a group, he fires his gun and accidentally shoots Carl in the head, destroying his right eye and taking out a chunk of his face. When Negan and his Saviors become a threat to the group, Carl hides under some mattresses in one of their trucks, ambushing the saviors as they open the door and killing several, before being brutally beaten by Dwight, and then taken hostage by Negan.
However, while Negan is usually cold and dispassionate, the harsh demeanor of Carl leaves an impression on him, as Negan, while claiming he's still going to punish Carl, starts to mentor him into the ways of The Saviors, acting curious and concerned about his past and bluntly claiming that, in his eyes, Carl is going to become a serial killer.
Carl Grimes come into combat jampacked with a load of deadly weaponry. He is skilled with his bowie knife and is a crackshot with his pistol, he also brings in the M4A1 previously owned by a member of his group.
| Category | Weapon | Stats |
| --- | --- | --- |
| Melee Weapon | Bowie Knife | 12 inch blade |
| Secondary Weapon | Beretta M9 | Semi-auto, fires 9mm rounds, range of 50 meters,15 round magazine, weighs 41.0 oz loaded |
| Primary Weapon | M4A1 | Full-auto, fires 5.56mm rounds, range of 500 meters, 30 round magazine, 700-950 rpm |
X-Factors
Edit
Ellie - Carl
TBD - Experience - TBD
TBD - Intelligence - TBD
TBD - Brutality - TBD
TBD - Mental Stability - TBD
TBD - Training - TBD
TBD - Creativity - TBD
(*) If Rick wins. Ellie after learning of the death of her mentor and friend Joel she begins to wander alone across America. At one point she'll be captured by the Saviors and Negan will realize the prefect way to deal with her. Once they return back to base; Negan will make his way to Carl and says he has a way for him to make up for all the men he killed. Then he'll put both Ellie and Carl in an arena to fight to the death.
(*) If Joel wins. After having lost his father. Most of his group later is killed by a group of Firefiles he even loses his eye, Carl and Carol are forced to wander the wastlelands of America he'll at one point meet up with Abraham and Rosita, after about of month of traveling with them they are both killed by the Saviors. Carl manages to grab the M4 and kill off multiple Saviors, he is overwhelmed by Dwight and later taken back to the Savior Base. Negan liking his spunk decides to keep him and raise as his "son." Ellie and Joel is hunting and comes across a group of Saviors who attempt to kill them. After managing to hold off a few of them they are captured. Negan takes them back to base. He tells Ellie the only way to save him is to fight his son to the death. If she manages to succeed he'll let both of them walk of to freedom.
Brotherhood of Steel vs. The Thing
Edit
TBA.
Hellfury brings you the most over-produced, bloody-gorey fight of the ages in this battle of the brutal competitors! Travis Touchdown! The otaku turned UAA assassin after buying a beam katana in an online auction and climbing the ranks of the brutal UAA! VERSUS! Jack Cayman! Former marine, police officer, and rogue agent turned three-time champ of the extremely brutal MadWorld tournament! WHO...IS...DEADLIEST!?!?!
Travis Touchdown
Edit
Jack Cayman
Edit
X-Factors
Edit
Travis - X-Factor - Jack
80 - STRENGTH - 90
Jack's weaponry and fighting style relys on his brute strength, He can pick up an armored man and heavy machinery without difficulty. Travis relys more on his skill with his Beam Katanas and wraslin' moves, he can pick up a man and slam him, but not as quick and easily as Cayman can.
75-INTELLIGENCE-80
Travis has never been potrayed as extremely intelligent, he's rushed into battles without much thought and has been tricked numerous times. Jack has never been potrayed as extremely intelligence, but his knowledge shows more than Travis'.
Punisher vs. Joker
Edit
Hellfury brings you true rage and anger in this non-stop, bloody action-packed comic book battle! Throwing two brutal and violent characters into a deathmatch will only end in a death! Who will survive!? Will it be...The Punisher! A Vietnam war veteran turned brutal, criminal-hunting vigilante who punishes the guilty and brings a one-man war on terror! Or will the victor be...The Joker! The arch-nemesis of the dark knight, terrorist, torturer, and slayer of thousands molded into a ruthless and sadistic killer clown! WHO...IS...DEADLIEST!?!?!
The Joker
Edit
"

I've proved my point. I've demonstrated there's no difference between me and everyone else! All it takes is one bad day to reduce the sanest man alive to lunacy. That's how far the world is from where I am. Just one bad day.

— The Clown Prince of Crime

"
The Joker, who's true name is unknown, is the homicidal arch-enemy of the Batman. His alias' and background constantly change, though one thing from his multiple origins remains the same each time, the Joker is known to have been forced to swim through a vat of chemicals which turned his skin white, his hair green, and left his face permanently locked in a double Glasgow Grin. Completely unpredictable with no regard for human life, the Joker finds murder and mayhem funny, and is perhaps the most dangerous man on New Earth with a body count stretching into the thousands, all centered around his obsession with destroying the Dark Knight.
The Joker boasts a large array of both practical and impractical weaponry ranging from a traditional handgun to explosive cigars. In this fight The Joker and his goons will be armed with...
| | |
| --- | --- |
| Crowbar | The Classic Crowbar that the Joker used to beat Jason Todd, the second Robin, to a bloody pulp before killing him and his mother. |
| Switchblades | The Joker often conceals two Switchblades in his sleeve which he pops out when needed in combat. |
| Butcher Knife | Traditional Butcher Knife that is concealed within his coat. |
| Straightrazor | A Straightrazor concealed within his pocket. |
| Cyanide Pie | A poisonous cyanide-filled pie that can kill a target if landed on the face. |
| Razor-sharp playing cards | Playing cards sharpened to a razor point able to cut through steel. |
| Boxing glove  | A spring-loaded mechanical arm with a boxing glove on the end. The force of the spring is shown to be extremely powerful - enough to knock people out. |
| Electric joy-buzzer | A deadly joy-buzzer strapped around the Joker's palm, and can shock another human to the point of death. |
| Acid Flower | A bright-yellow harmless looking flower stitched into the Joker's suit, but squirts out a deadly array of acidic chemicals onto the target. |
| Harpoon Gun | A weapon that takes the appearance of a harmless green toy revolver that shoots a small flag reading "BANG!". However, after a second pull of the trigger, the flag blasts out of the barrel and impales the target. |
| Smith & Wesson Model 15 | 6-Cylinder S&W Revolver firing .38 Special rounds. |
| Glock 17 | Semi-automatic Glock 17 chambered in 9mm rounds with 17 rounds per magazine and a range of 50 meters.  |
| Beretta 92FS | Semi-auto Beretta 92FS firing 9mm rounds with 15 rounds per magazine and a range of 50 meters. |
| M1921AC Thompson  | Fully-automatic M1921AC Thompson chambered in .45 ACP rounds with a 100-round drum magazine and a range of 50 meters. |
| Saiga-12 | Rotating-bolt, gas-operated semi-automatic with 12 Gauge shells and 10-round magazine. |
| TAR-21 | Semi-Auto/Full-Auto IMI Tavor TAR-21 firing 5.56x45 NATO rounds, 50 bullet magazine, Grip, Smileyface Red Dot Sight, and a range of 550 meters. |
| Joker Venom | A gas that slowly and painfully kills the victim and causes uncontrollable spasms of laughter until the victim dies with a large grin on their face. |
Jack Ryan vs. Booker Dewitt
Edit
Hellfury brings you a fierce firefight of bullets, electricity, fire, and much much more in this franchise fight! Booker DeWitt! The disgraced Pinkerton agent turned private investigator, exploring Columbia and rescuing Elizabeth to earn some cash! VERSUS! Jack Ryan! The unlucky plane crash survivor turned man fighting for his life in a living hell!
WHO...IS...DEADLIEST!?!?!
Booker DeWitt
Edit
"

Well... Nothing ventured, nothing gained.

— Booker DeWitt

"
Booker DeWitt is a former Pinkerton agent, disgarced do to the use of his extreme methods on the job. As a member of the Pinkerton Agency, DeWitt had been tasked with breaking up union strike efforts. At one point he was also an Indian fighter, and was present at the battle of Wounded Knee. Following his discharge, he became a private investigator. When he was contacted by a man who offered DeWitt a mission that would help pay off his gambling debts. The client gave DeWitt information about the location of Columbia and commissioned him to find and rescue Elizabeth, a young woman who was held captive within the city, to bring her back to New York. Upon his arrival in Columbia, DeWitt hears explosions and gunfire in the distance, revealing the civil turmoil in the city. In Columbia, Booker gains access to extraordinary abilities in the form of Vigors.
Booker comes across a wide variety of unique firearms to get the job done while in Columbia, some such as...
| | | |
| --- | --- | --- |
| Melee Weapon | SkyHook | Short-ranged melee weapon that uses three rotating hooks to damage enemies |
| Handgun | Mauser C96 "Broadsider" | Fires 9mm rounds, holds 18 bullets per magazine, high rate of fire |
| Shotgun | Modified "China Broom" Winchester 1887 | Fires 12 gauge, holds 4 shells before reload, low rate of fire |
| Sub-machine Gun | British Lanchester Mk. 1 "Triple R" | Fires 9mm rounds, holds 35 bullets per magazine, high rate of fire |
| Long Range | M1903 "Bird's Eye" Springfield | Fires .30-06 rounds, holds 4 bullets per magazine, low rate of fire |
| Launcher | Barnstormer | Fires Rockets, holds 2 rockets before reload, low rate of fire |
To rival Jack's Plasmids, Booker brings in the amazing superhuman Vigors!
| | |
| --- | --- |
| Electric Power | Shock Jockey Vigor |
| Fire Power | Devil's Kiss Vigor |
| Back at Ya Power | Return to Sender Vigor |
| Swarming Power | Murder of Crows Vigor |
| Assist Power | Possession Vigor |
| Forceful Power | Charge Vigor |
Jack Ryan
Edit
"

...they told me, 'Son, you're special, you were born to do great things.' You know what? They were right.

— Jack

"
Jack arrives in Rapture in a Bathysphere taken from the nearby lighthouse after a plane crash. He explores the city with the help of Atlas, who speaks to him through a short wave radio. Atlas guides Jack to his family's location in a bathysphere, before it is blown up by Andrew Ryan. Atlas guides Jack to Ryan's location to kill him, and after doing so Atlas reveals himself as Frank Fontaine, a thought to be killed Gangster. Before Ryan's death it is revealed that Jack is the illegitimate son of Andrew Ryan. Jack was to be Fontaine's back up plan if he was ever forced into a bad position by Ryan during the increasing hostility leading up to Rapture's Civil War. Jack was "born" and raised by scientists in rapture. Jack finally locates and kills Atlas, escaping Rapture.
Jack comes across a variety of weapons in Rapture to help him survive the living hellhole of a city, such as...
| | | |
| --- | --- | --- |
| Melee Weapon | Pipe Wrench | 2.5'' Pipe Wrench dealing blunt damage |
| Revolver | Modified Webley Mk IV Revolver | Fires .38 S&W, holds 6 rounds, solid rate of fire |
| Shotgun | Modified 1882 Spencer Shotgun | Fires 12 gauge, holds 4 slugs, average rate of fire |
| Sub-machine Gun | Modified 1921 Thompson | Fires .45 ACP, holds 40 rounds per magazine, high rate of fire |
| Long Range | Modified Crossbow | Fires Steel Bolts, holds 5 bolts, average rate of fire |
| Launcher | Custom Grenade Launcher | Fires Grenades, holds 6 grenades, average rate of fire |
Jack brings in the genetic-modifying Plasmids to counter Booker's Vigors!
| | |
| --- | --- |
| Electric Power | Electro Bolt Plasmid |
| Fire Power | Incinerate! Plasmid |
| Back at Ya Power | Telekinesis Plasmid |
| Swarming Power | Insect Swarm Plasmid |
| Assist Power | Enrage/Security Bullseye Plasmids |
| Forceful Power | Sonic Boom Plasmid |
X-Factors
Edit
Booker/Jack
75-STRENGTH-100
Booker has above an average physique and above average human strength due to his training and combat experience, Jack had a "gross musculature of a fit, 19 year old." at the age of one due to chemicals like Lot 111, Jack's altered strength and splicing make him superhuman, getting him the edge.
80-DURABILITY-90
Both can withstand the elements and a hellstorm of bullets and pressure, though Jack's splicing and enhanced strength make him a bit more durable than his opponent.
80-INTELLIGENCE-65
Jack, under Fontaine's control, cannot think for himself and always obeys the phrase "Would You Kindly?". He doesn't put in much thought and strategy in combat when facing Splicers and Big Daddies, though he is shown to be smart enough to jack complicated machinery and use it to his advantage. Booker, on the other hand, puts more thought and strategy in combat and can think for himself. 
80-TRAINING-30
Booker was a former Indian Fighter, Pinkerton agent, and solider in the 7th Calvary Regiment, getting him training easily, bar none. Jack was made to be a sleeper agent and tool for Fontaine, having no real training.
85-EXPERIENCE-55
Booker has experience working for the Pinkerton Agency, serving in the United States Army, and as a Private Investigator, and was present and fought in The Battle of Wounded Knee. Jack has no real combat experience aside from his time in Rapture.
70-CREATIVITY-85
Booker can be creative in combat with his Vigors and Elizabeth's Tears, though relies mostly on his firearms for basic combat. Jack relies on the creative combos of his plasmids, weaponry, and hacking to survive in Rapture.
80-BRUTALITY/KILLER INSTINCT-90
Booker was disgraced from the Pinkerton Agency do to his extreme methods and brutality on the job, and doesn't hesitate to kill an attacking foe in anyway possible, though he will avoid a fight if the option is there. Jack was literally born to kill and relies on his killer instinct and brutality to intimidate foes, and won't hesitate to kill a splicer or harvest a Little Sister to survive.
Fallout Event because fuck user tournaments

WELCOME TO THE MOJAVE WASTELAND
Hello Wastelanders, enjoying the Mojave? Well, let's bring some more joy to your wonderful Mojave experience with the one and only, best form of entertainment down here in the mojave wasteland, it's time for the.....
MOJAVE WASTELAND COMBAT INITIATIVE
Or...
THE MOWCI!
The M O W C I aims to bring you a combat experience like no other, just follow the rules below!
The Garden of Eden Creation Kit, or G.E.C.K., is the first step in creating your character, follow the instructions!
BASICS- Create the basics of your character. Name, Gender, Race, and Age.
BACKGROUND- Create a backstory for your character
Now we get to the fun part...
S.P.E.C.I.A.L.
Edit
SPECIAL stands for many things. Strength, Perception, Endurance, Charisma, Intelligence, Agility, and Luck.
Each category can have up to ten (10) SPECIAL Points put into it.
You have Fourty (40) SPECIAL points to use, so choose wisely. Use this to help you with your stats.
For more on SPECIAL, Click Here
EQUIPMENT
Edit
THIS is the fun part. You ge to choose your weapons, armor, and companions here! Let's break it down
You can only use weapons from the fallout games. The following is a list of weapons from the video game franchise: Fallout, Fallout 2, Fallout Tactics, Fallout 3, and finally New Vegas.
The categories are as followed:
When listing your weapons, please site the game it is from as followed: Anti-Material Rifle (New Vegas)
Also list the real-life counter-part of the weapon if possible.
Only 3 mods total are allowed
And yes, Laser, Energy, and Plasma based weaponry is allowed.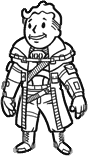 NO POWER ARMOUR. It is over-powered. This is rather simple, look around the fallout wiki and select a armor you like. NO POWER ARMOUR.
Companions
Edit
You may have one NON-HUMANOID (That includes Ghouls and Super Mutants) Companion to aid you through out the tournament. Animals ONLY! CAZADORS AND DEATHCLAWS ARE ALSO BANNED!
The maxium amount of users that can join will be 12!