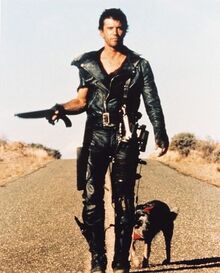 Hello, I'm new to this wiki, if anyone can show me the ropes I can make a home here...
My favorite pages
Edit
Warriors I'm using
Edit
Jackhammer
Edit
Jackhammer
Weapons

various weapons

Origin

unknown

Activities

Vigilantism

Service

Since the death of his girlfriend
Jack Thomas Preston was born in New York City, he lived all of his life near Manhatten. but on September 11, 2001, at age nine he was with his parents in Manhatten, his parents went into the World Trade Center twin towers for his father's interview while Jack was waiting with one of his father's friends outside when one of the Airliners flew straight into one of the towers Jack recovers and witnesses the tower in flames in horror as another collides into the second tower, it was a terrorist attack. Jack tries to get into the burning towers but couldn't because the firefighters wouldn't let him. He manages to break through the firefighters and run into the tower just as the two towers collapsed, Jack was hit in the head by a flying debris and was buried, he was recovered from the wreckage but he was knocked unconscious and didn't regain for two years.
Jack woke up from his two-year coma and found out that his parents were dead and was adopted by his father's friend Paul Anderson and was taken in with his family for four years, Paul loved Jack as one of his own children as he had a few adopted children, most are Caucasian and African American. During his four years he began to discover his amazing strength, and amazing knowledge. He also developed a hate towards Anti-Americans, Racists, Neo-Nazi skinheads and US Congressmen that corrupted America with their greed. Also he became very interested with the Multiverse theory and hoping that he may try to travel to one. He made his first dimension watch using a bunch of computer circuit boards cut down small enough to fit the watch and he teleported but he only traveled to an empty universe with a hundred times massive amount of space and back. He can later use it for some future uses. On April 9, 2007, he has a beautiful girlfriend named Jessica Saoi, they both got along together and she was invited to a BBQ party his foster parent are throwing for his birthday. Then a gang of Anti-Americans starting killing everyone in sight. Jack and Jessica hid underneath the table as the KKK killed his foster family. then the table they're under turns over and Jessica was kidnapped in front of Jack. He saw Anti-American hate group members, they're also wearing a red band on their arms, it was a Nazi Symbol and he attempts to fight them but was useless, they overpowered him and beat him down and they left him to die. They also threw grenade at him as they leave but he managed to limp away from the grenades as they explode, the explosion threw Jack across the street. He blacked out as the police arrived.
After identifying the killers he asked to arrest them but they couldn't because of their rights. Jack started working on his second wrist device using the circuits from his first device, it took three days but he manages to create a dimension that'll double as his base. He only started with silenced pistols and knives to find Jessica. On May 2, 2007 he finds one of the skinhead's hideout, it was an abandoned house when he enters through the doors. He searches the place and finds a video camera, he watches the video and in horror the Skinhead commits horrible acts on Jessica. He also finds a stack of tapes of all the girls he tortured and killed and the dogs chewing on human bones, they were Jessica's. He then kills the dogs and when the skinhead arrives home he attacks him and ties him to the chair. He then he takes a scraper and skins the rapist alive and then beats him into a bloody pulp using a meat hammer while recording on the camera and then kills him, destroys the camera and the house. He lost his sanity and remorse that night, for a year he designed his outfit, weapons, his modified cars and his revenge against the Skinheads and Klansmen.
And so he appeared with his new appearance, car and a thirst for revenge. for weeks he killed every Anti-American punks, Neo-Nazi and KKK tribes viciously. Each kill he made, makes him cold and hard and represses his own memory of 9/11 and his second loss. His friend, David Johnson who's African American, also joins him in the rampage after his parents were killed by the Klansmen and Stan Thompson joined them because he believes racism and Anti-Americanism is wrong, becoming the United States Rangers. After they killed the racist tribes they also killed almost every Anti-American in the country that tried to turn the nation upside-down. afterwords Jack didn't care, he and his small vigilante team killed everyone that the people of America are too scared to do.
He and his encounter Slade, who they later worked for. Later he promised them the world. but jack declined the promise. When Slade asked them again to join him, They refused because Jack found out news reports that Slade was a high criminal. Raged, Slade attacks Jack but he was too quick. He and the others fought Slade in the abandoned foundry with weapons included firearms and melee weapons wielded at each other. Few minutes later, Slade knocks Jack into one of the foundry's gears. Slade turn on the machine and the gears rotated inward, taking Jack's right arm with it. Slade leaves Jack to die, Jack though in pain, manages to pull his arm out of the gears only by the elbow and his lower arm was torn away, leaving the Exoskeleton of the arm left. Jack heard gunshots on the other side of the foundry and when he got there he sees David lying on the platform dead but he couldn't find Stan but he sees the shred of his T-shirt on the railing over the active gears. Then the bombs Slade placed in started to explode. Jack manages to escape the foundry, return to his dimension and replace his arm with a Cybernetic one, then he vowed vengeance to hunt down Slade and kill him for the loss of his arm and to avenge his team. He spent three months trying to track him down but was unsuccessful.
He encountered the Teen Titans after He drove on the highway outside of Jump City when he ran over a debris, poking through the tire and causing him to lose control as he went tumbling onto the road and onto the side. He survived the crash and managed to get out of the wreckage but blacks out as the Titans found him. After Jack regain Consciousness, he received hospitality from the titans, his fighting skills scared them and when the first mission in Jump City was successful he became an honorary titan but was discharged for his destructive behavior and using lethal methods. after he left Titans Tower and Jump City, he still carry on his goal of protection America from its enemies, even from within America. He's also trying to reform the United States Vigilantes, recruiting new members to take on everything the FBI and the crimials throw at him and his team.
| Weapons | Warrior 1 |
| --- | --- |
| Melee: | Katana Swords |
| Close Range: | Modified Pistols and Revolvers |
| Medium Range: | Shotguns and SMGs |
| Long Range: | Assault Rifles |
| Explosives: | Grenades |

Special: Rage Mode