Tomahawk23/Sandbox
Talk

0
2,814pages on
this wiki
Federation of Fear Vs. Founding JLA Members
Edit

Note: The title card does not include two members of the Federation of Fear, Spiriah and Lariska because there was not a suitable image for the collage of them (done by Arrow).
Edit
In this bloody and brutal battle royal the Justice League might encounter an enemy tougher then that they have ever faced! Two teams of ncredible power will go head to head! The Justice League, a team containing the best fighters DC has ever produced. The JLA have saved Earth countless times from the deadliest villains in the DC universe! Vs. The Federation of Fear! A team of expendable enemies of the Order of Mata Nui lead by Brutaka on a suicide mission to free the former Makuta, Miserix.  Both teams possess the power to take on entire armies, but only one will be left standing! 
WHO-IS-DEADLIEST!?!??!?!?!?
Federation of Fear
Edit
The Federation of Fear is an expendable team of mostly prisoners to the Order of Mata Nui sent on a suicide mission. All but two members of the Federation are prisoners. The other two are Brutaka, leader of the team, and Lariska, a Dark Hunter. All prisoners were found, knocked unconscious, and brought to a location where they were instructed by Brutaka that they could either carry out a mission for some "friends of his" and live if they make it out alive, (few know of the existence of the Order of Mata Nui, very few. It's very secretive) or they could walk out in a body bag. The mission was to find the former leader of the Brotherhood of Makuta, Miserix. During the mission there was one death (Carapar was killed by Tren Krom who's basically a god), one betrayal, and two members tried to escape (Takadox successfully did).
"

I have uprooted mountains, Toa. I have ridden the tornado and filled the earthquake with fear. When you were still toiling at your mundane Matoran chores, I and others like me were holding your universe together. Do you really believe your puny powers can threaten a member of the Order of Mata Nui?

— Brutaka to Toa Hewkii

"
"

In my time, I've dared lots of things, maybe too many things. I fell a long way from the light and I can never find my way back. But the darkness is not so complete that I cannot recognize a monster when I see one.

— Brutaka challenging Teridax

"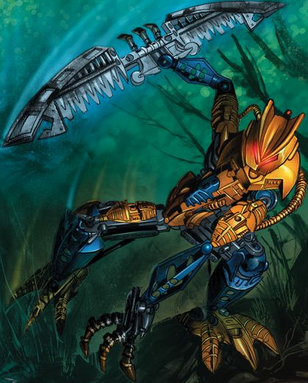 Brutaka is the leader of the Federation of Fear. He joined the Order of Mata Nui over 80,000 years ago. He was teamed with his friend, a powerful and well known warrior named
Axonn
. The two were posted on Voya Nui where they were assigned to be the first line of defense for the Mask of Life should anyone try to possess it. They also secretly protected Voya Nui's matoron. Brutaka and Axonn survived the Great Cataclysm and the resulting earthquake that tore Voya Nui and the surrounding area from the Southern Continent and sent it rocketing up to the surface of the planet. Brutaka was shaken by the event and believed that the Great Spirit Mata Nui (he's basically the God of the Bionicle universe) had either died or else abandoned the universe.
When the Piraka came to Voya Nui, he aided them. He defeated the entire Toa Nuva and Voya Nui Resistance Team with a single blow while fighting Axonn. Later on, Brutaka would face Axonn in an all out duel where Axonn successfully knocked him unconscious. When Botar arrived he was banished to the pit despite Axonn's protests.
While in the pit, Brutaka successfully defeated Teridax, who is easily one of the most powerful beings in the Bionicle universe. After this Brutaka was freed from the Pit and rejoined the Order. Shorlty after he was ordered to capture several dangerous enemies of the Order and force them to participate on a suicide mission to find the former leader of the Brotherhood of Makuta, Miserix. Thus forming the Federation of Fear.
Weapons and Powers
Edit
Protosteel Rotating Blades: Brutaka's main weapon of choice are his Rotating Blades. His Rotating Blades are made out of Protosteel as are all Order of Mata Nui weapons. Protosteel is the fictional metal in the Bionicle universe. It is very similar to adamantium. It is the strongest metal in the Bionicle universe. It can cut through virtually anything. Even Makuta armor. Protosteel weapons should be able to break through Wonder Woman and Aquaman's skin. Brutaka is extremely skilled and experienced with this among many other weapons as he has been training and fighting with this weapon for thousands of years and due to this along with his massive size he is able to use them to their full potential. He was able to successfully defeat the entire Toa Nuva and Voya Nui Resistance Team all at once with one single strike from this weapon. It carries an electrical charge and an "electronic rock cutter" in the back. The electric charge was strong enough to stun Axonn, one of the most physically enduring and strongest Bionicles. The blades are called "rotating blades" because Brutaka will spin them in combat. Brutaka's fighting style is confusing, unpredictable, and nobody else uses a fighting style like that.
Hidden Protosteel Daggers and Extra Arms: Brutaka has two smaller extra arms hidden made to look like part of his back. Here he carries two hidden Protosteel Daggers.
Immunity to all forms of Telepathic Assault: This isn't really a power for Brutaka. More so a skill. Brutaka has been trained to shield his mind from telepathic assault through rigorous training from the Order of Mata Nui. He is so well trained that he was able to free himself from Teridax's stasis field with extreme ease.
Kanohi Olmak/Mask of Dimension Gates: Brutaka's mask is able to open up gates to any dimension. It's unknown if the size of the portal is limited. But it may very well be unlimited as he has used it to transport entire islands. The Olmak can also be used to teleport anywhere in the user's current dimension. The portal could remain open until something passed through it. Even if the user was knocked unconscious.
Immense Strength and Physical Endurance: Brutaka is huge. Far bigger then the Average Bionicle. His strength rivaled that of Axonn, one of the strongest beings in the Bionicle universe. Though Brutaka was not quite as strong as Axonn. His physical endurance has allowed him to easily survive being hurled into a nearbye mountain and get right back up as if it was nothing. 
Antidermis Absorbtion: Brutaka is able to absorb the Makuta energy Antidermis into his system. This makes him considerably stronger, full of rage, and thus far fiercer. Brutaka will be able to absorb antidermis from Spiriah considering he's a Makuta.
"

This is the last member of our team. Treat her as you would me... and be sure she will treat you even worse than I do. Her name's Lariska.

— Brutaka on Lariska to the rest of the FoF

"
"

... Lariska, the wise, wonderful, and gloriously homicidal.

— Vezon to Lariska

"
Lariska is Brutaka's second in command.  Unlike all other members of the Federation, Lariska is not a prisoner. No. She is the second in command of the Dark Hunters, a massive organization of bounty hunters, thieves, and warriors. The Dark Hunters are one of the three most powerful organizations in the Bionicle universe.  The others being the Order of Mata Nui and the Brotherhood of Makuta. In Destiny of War, the Dark Hunters made an alliance with the Order of Mata Nui.  This is way Lariska is on this mission.  Lariska is easily one of the most dangerous Dark Hunters, her skills were good enough to intimidate that of Spiriah, who despite being a coward, is not easily intimidated by someone with no powers, and the fact that she is second in command of the Dark Hunters says a lot.  Lariska is loyal and will follow all of Brutaka's orders and can scare and keep anyone in the Federation in line.
Powers and Abilities:
Edit
Duel Protosteel Daggers: Lariska was given two protosteel daggers by the Order of Mata Nui which she tipped with poison.  She would often throw them.  Lariska would often throw her daggers at her enemies.  
Perfect Agility: Lariska could perform astounding acrobatic maneuvers. She hated to rest, preferring to move around and had been known to spontaneously start doing somersaults and back flips. She could easily maneuver her way around just about anything. Lariska could still be very quiet when needed.
Acute Senses: which were able to detect Nidhiki, even though he was using a Volitak.
Spiriah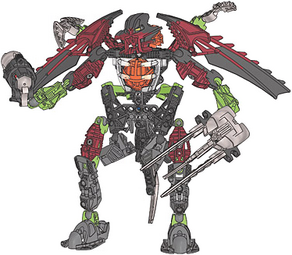 "

And the Makuta believe they know all the colors and shapes of revenge... but I will introduce them to a shade darker than even they could imagine.

— Spiriah

"
"

We will be setting a new course, for the island of Zakaz. It was there that I met defeat and disgrace – there that my grand experiment failed, because the inhabitants were too savage to know what to do with my gifts. It is their fault I was cast out of the Brotherhood – and now they are going to pay!

— Spiriah to Brutaka

"
Being a Makuta, Spiriah is probably the most powerful member of the Federation of Fear. I'm not gonna explain it in his brief bio, so I'll just let his list of powers explain it.
Spiriah was created by Mata Nui (a god) from a pool of liquid Antidermis on the island of the southern reaches of the Matoran Universe around 100,000 years ago. Shortly after his creation, he then became a member of the Brotherhood of Makuta working on experiments with Rahi and creatiing breeds of them to populate the Matoron Universe, though he lacked the skill to do so.
Following the Matoran Civil War on Metru Nui, Spiriah was assinged by the Makuta Mixserix (who at the time was the leader of the Brotherhood of Makuta) to supervise the island of Zakaz, as well as the island of Aridax to the south.
During the meeting at the convocation chamber when Teridax revealed his plan and took over the Brotherhood, Spiriah was one of the first Makuta to side with him. He, along with krika were ordered by Teridax as the new leader to kill Miserix, but instead Krika imprisoned him on Aridax; Spiriah was aware of Krika's treachery, but never revealed it.
Around 70,000 years ago, Spiriah saw the potential for a powerfularmyin the Skadki (the Piraka are Skadki), the native residents of Zakaz, and began tampering with them. The Brotherhood claimed that Spiriah was a rogue agent, though the Order of Mata Nui later suspected that Spiriah had been operating under the Brotherhood's orders all the time.
Eventually, the Skakdi began exhibiting various new abilities, such as elemental and heat vision powers, Spiriah left Zakaz, intending to return at a later time. By the time Spiriah returned , the entire Native population was at war with itself!
As a result of this mistake, Spiriah went into hiding, knowing that if he were to be caught he would be executed by his fellow Makuta.
On the run from the Brotherhood, Spiriah was kidnapped by the Order and joined the Federation of Fear to avoid death.
Spiriah like most everyone else on the team is a backstabber and will take any opportunity he gets to flee or even eliminate Brutaka and Lariska. He also possessses a strong hatred for the Brotherhood of Makuta.
Weapons and Powers
Edit
Accuracy: Could strike the smallest target at a great distance or in any environment or condition.
Adaptation: Instantly adapts to take maximum advantage of any condition or situation.
Anger: This allows a Makuta to fire white rings at his/her opponent making them turn on their allies. When this happens, they may not be reasoned with. Only incapacitated, then healed. Gali was able to heal Tahu through her healing abilities. There is no known cure other then that.
Chain Lightning: Controlled devastating bolts of chain lightning that leaped between multiple targets.
Chameleon: Had the ability to become completely invisible in any environment.
Confusion: Extended proximity could reduce even a Toa Nuva to mindless babbling.
Cyclone: Had the power to create and control powerful cyclones at will.
Darkness: Had the power to consume all light in a large area.
Density Control: Complete control over own density and that of any object in physical contact
Disintegration: Had the power to reduce even protodermis to dust. This will not work on Superman however. Although it will work on the rest of the JLA.
Dodge: Impossible to physically strike, no matter how swiftly or powerful.
Elasticity: Could stretch incredible lengths in the blink of an eye.
Electricity: Powerful electrical field could be controlled to surround or stun distant objects or creatures
Fear: Had the power to bring fear to the hearts of even the Toa Nuva. With this the target would be practically completely unable to move.
Fire Resistance: Strong enough to withstand the heat of Tahu Nuva's magma swords. 
Gravity: Used gravity control to crush any object in visual range
Heat Vision: Powerful long-range heat vision that could ignite any object within sight
Hunger: Had enough strength to drain the energy of a Toa Nuva. The opponent will be on the ground unconscious for a few minutes.
Ice Resistance: Impervious even to the cold of Kopaka Nuva's ice blade.
Illusion: Could create and control multiple realistic illusions anywhere within sight.
Insect Control: Powerful enough to control and command an entire hive of Nui Rama.
Invulnerability: Absolutely invulnerable to physical harm of any kind. This is on par with Superman's durability, only slightly superior for they are not particularly weak to magic or kryptonite. This ability is not automatic. They must activate it to be this way. Most Makuta are far too arogant to do so. However, Spiriah is cowardly and will no doubt activate it. But not right away. Spiriah will likely activate it as soon as he sees just how powerful the JLA are, which shouldn't be too long. There's a goo chance Spiriah will attempt to flee if Brutaka or Lariska are injured or killed.
Kraata Creation: Could create Kraata at anytime. Kraata are the creatures in Rahkshi. Rahkshi are not organic. They are meerely Kratta within robotic suits.
Laser Vision: Fired powerful eye-beams that could burn through solid protodermis.
Magnetism: Possessed magnetic powers strong enough to tear a slab of protodermis in two.
Mind Reading: Powerful enough to invade the mind of a Turaga or Toa Nuva.
Molecular Disruption: Had the power to utterly disintegrate any inorganic object with a touch.
Plant Control:Had total control over any plants in the area.
Rahi:Had the power to instantly melt any object into vapor.
Poison: Dangerously toxic even to a Toa Nuva. This also enabled the user to create a pool of poison that would spread all across a land covering every square inch. The exact range is unknown, but it presumably covered all of To-Koro's castle.
Power Scream: Could shatter stone and could be heard all across the island.
Quick Healing: Almost indestructible;could be used to heal the injuries of others.
Rahi Control: Had absolute control over every living Rahi in the near area. Rahi are basically animals in the Bionicle universe.
Shattering: Could reduce even Protodermis to rubble.
Silence: Aura of silence was powerful enough to temporarily deafen a Toa Nuva.
Sleep:Have the power to instantly put an entire village into deep sleep.
Slowness: Able to rob even a Toa Nuva of all speed as long as it remained nearby.
Sonics: Blasted distant objects with powerful waves of sonic force.
Stasis Field: Had the power to freeze a creature in near-permanent stasis through eye contact.
Teleportation: Had the power to teleport itself through any wall or other structure.
Vacuum: Had the power to create gale-force winds or instantly reverse their flow.
Weather Control: Could manifest powerful, dangerous thunderstorms and blizzards at will.
Shapeshifting: Shapeshifting is one of the Makuta's most notable traits. It allows them to morph their armor into any form. It's only limitation is that when shapeshifting into something bigger or stronger it wouldn't be quickly unless the Makuta absorbed a certain amount of power or mass.
Shadow Hand: Shadow Hand is easily one of the Makuta's deadliest abilities. It allows the Makuta to create a massive hand (goes out well over 200 feet) that will grab and then absorb the powers of the victim. Then the victim would be incorporated into the Makuta's mind and spirit and utterly destroyed. Though not immediately. While the victims cannot physically threaten him, this is a potential problem for a Makuta. Teridax (leader of the Brotherhood of the Makuta) blames his defeat at Metru Nui on having to supress the minds of Nidhiki, Krekka, and Nuvawk at the same time. As Teridax put it, he disagreed with something he ate.
Shadow Control: Makuta have full control over the element of shadow. This allowed him to manipulate shadow into different energies. Control it's location. His control over shadow along with his ability to blend in with his environment allowed him to become completely invisible to Takanuva during their dual until Teridax revealed himself. Makuta could also change it into different shapes. Such as spheres, beams, or hands. 
Shadow Leeches: Shadow Leeches are leeches carried in a container on the user's chest. When released, they would fall and attempt to bite the target. If they did, they would suck the moral and elemental light out of someone. The victim would then serve the Makuta and do as they say. Shadow Leeches in the toy sets look a lot less like they are described in the books. In the toys they are these really small balls with spikes. In the books they are described as too foot long leeches.
Wings:  Spiriah has big and powerful wings.
Kanohi Jutlin/Mask of Corruption: This Jutlin is Spiriah's mask. It allows the user to to break down inanimate objects within their range of vision and cause it to rust or decompose. The Mask also contains poisonous fangs/teeth.
Midak Skyblaster: The Skyblaster is Spiriah's primary weapon. The weapon drew light from the air and fired it as a solid sphere.
 Claws: While in the FoF, Spiriah was given protosteel claws by the Order of Mata Nui. It's unclear what they were made out of, though it is possible they were made out of protosteel given that the Order of Mata Nui gave it him. Though it is possible they just didn't want it in the wrong hands incase of an escape.
Makuta Armor: Very few things could break their armor. Focused light based attacks, protosteel, and very hard impacts. Impacts on the level of the one that caused the great Cataclysm.
Weakness:
Edit
As powerful as the Makuta are, they still have a weakness. Two to be exact.
Makuta are shadow based creatures. They are vulnerable to light based attacks. However, light based creatures are vulnerable to their shadow based attacks for the same reason.
Makuta are really just the energy antidermis. If their armor is destroyed, the antidermis will leak out and weaken them. If this were to happen, Spiriah would just be a mass of energy. Should too much time pass he will die.</span>
It should be noted though that if a Makuta activates invulnerability, they are invulnerable to both light based attacks and their armor being destroyed.
"

"Hey! He was mine! I wouldn't have hurt him … much … and I only would have needed three or four hours and the right tools, just to make sure he would be no trouble."

"That's the point. You enjoy your work a little too much."

— Vezon and Brutaka

"
"

"It's all a trick, you see. They want me to pretend to betray them. They want you to concentrate your forces here against an attack that won't come. But I decided: Why pretend to betray them when actually doing it would be so much more fun?"

— Vezon

"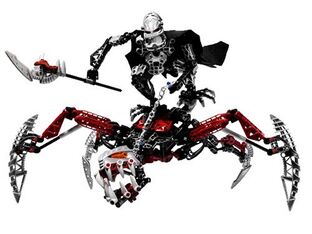 Vezon was born just before the awakening of Mata Nui, just before the Voya Nui storyarc. While the Piraka were inviestigating Teridax's former lair, Hakann accidentally shot Vezok with the Spear of Fusion set in reverse. The result was a second being split of Vezok. One that included all of his intellectual abilities, and retained all of his memories which is a memory that spans over 8,000 years. Vezok retained everything else, including his sanity as Vezon is completely insane.
Upon arriving on Voya Nui, Vezon was fused with the Mask of Life, one the three most powerful masks in the Bionicle universe (others being the Mask of Time and Creation). The Mask of Life makes the user completely invincible, purely unkillable, allows the user to evolve and devolve lifeforms and objects at will, grant the user shapeshifting, absorb energy and release in a massive blast called "Nova Blast" which basically has the power of the nuclear weapon, could use telepathy, among other abilities. It also fused him to the massive Fenrakk spider.
Vezon would play a crucial role in the short lived Battle on Voya Nui for the Mask of Life which he possessed. He would battle Brutaka, Axonn, the Piraka, the Toa Inika, the Voya Nui Resistance team, and I think Umbra. Matoro would successfully defuse him from the mask somehow as well as Fenrakk. Vezon would later be imprisoned on Daxia by Brutaka. It was then that he was given the option to join the FoF, or die. Without the Mask of Life, Vezon is far less powerful then he once was. Nevertheless, Vezon is still an extremely dangerous opponent, as he has over 8,000 years of experience, is highly unpredictable, as well as limited abilities to see into the future, heat vision, among other abilities he was not to be trifled with.
It's worth noting that inspite of his anger he is still a skilled tactician and fairly rational thinker, as he retains all of Vezon's memories.
Weapons and Powers
Edit
Heat Vision: This a power that came naturally to all Skakdi. It allowed them to fire powerful heat beams out of their eyes.
Vision Power: Like Heat Vision, Vision Power comes natural to all Skakdi. It allows them to see into the future. But it was limited, it could not see that far. It is not clear if by limited they mean by a few days, hours, weeks, months, years, etc. This is all up to speculation.
Kinetic Energy Absorption: Whenever hit, or were to hit someone, he would grow stronger. This made Vezon almost invulnerable to most physical attacks as it would simply make him stronger and not weaken him. However, if the attack did not necessarily deal kinetic damage, such as Superman's heat vision would damage him.
Powerless Spear: Vezon was given this by Brutaka in the FoF storyline. Like Spiriah's claws, it's likely that it was made out of protosteel because the Order gave it to him. Though it was never stated what it was made out of. It's possible the Order just didn't want protosteel falling into the wrong hands if an FoF member were to escape.
(I was unable to find a pic of any other of Vezon's powers or his powerless spear which I why there is only one pic. Sorry about that.)
"

"Only those are judged in time by the quality of their enemies. History teaches us this."

— Roodaka

"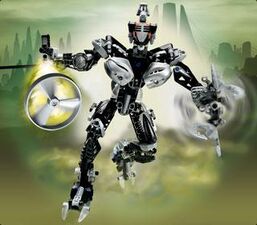 Roodaka is a several thousand year old former viceroy of the Visorak.
Long story short, Roodaka was able to get the Shadowed One (infamous leader of the Dark Hunters) to train her. She later became a lieutenant in the Brotherhood of Makuta.
It was after Teridax's defeat at Metru Nui at the hands of the Toa Metru that Roodaka was summoned by him to take control of the city and free him. Roodaka and Sidorak managed to capture the Toa and almost defeat them. At the end of the day, Roodaka and Sikorak were defeated. Just before dying, Teridax was freed and used his teleportation abilities to teleport himself and Roodaka out of the city.
Following her rescue, Roodaka was tracked down by the Dark Hunter codenamed "Tracker" who had a deep hatred for her. After restraining Tracker from killing her, Roodaka was forced to journey to Odina, where she allied with the Hunters during the Brotherhood of Makuta\Dark Hunter War. During the next 1,001 years, she worked as a double agent in the Dark Hunters and the Brotherhood of Makuta, selling information and betraying both organizations.
By the end of the war, Roodaka's treachery would be revealed to both sides. She would be saved and captured by the Toa Nuva which leads us to the present moment- her service in the Federation of Fear.
Up until Mata Nui killed Teridax, Roodaka was on the run from both the Dark Hunters and the Brotherhood.
Physics of Territory Wars
Edit
In order to keep this a truly territory wars battle, and not politicians vs. politicians using territory wars weapons, we are incorporating the exact physics and rules of territory wars.  Every single one.  This is not politicians vs. politicians with territory wars weapons.  It's territory wars with politicians.
Movement:
Edit
In Territory Wars you can only move so many feet before you must stop and either use a weapon or do nothing.  It has never shown just how many feet that is.  However I would estimate about 100 feet.  So we'll use that as the rule: A person can only move 100 feet before they must stop and use a weapon, or do nothing.  Taking a different route, such as jumping on top of something rather than going straight, can save movement.
Turn Taking:
Edit
Each side takes a turn.  One person moves and stops, the uses or doesn't use a weapon.  Then the other side does that.  Red team moves in order of man in the front to man in the back.  Blue team is man in the back goes, then guy in the front, then middle guy, it's kinda messed up.
Surviving gunshots, grenades, and rockets:
Edit
The rocket is without a doubt the most powerful weapon.  Each side only gets 4 of these.  It will take away about half a health bar.  Gunshots will take away a small portion of it, unless it is a headshot which is an instant kill.  Please note that it has to be more than a headshot, you can shoot them in the head, they'll still survive.  It's gotta be straight to the center to be an instant kill.  The damage a grenade does varies.  If it hits really close to you, it'll take away about half your health.  Maybe a bit more.  If it's at a range but still manages to hit you, it'll do about as much damage as a gunshot.   Grenades and rockets also knock enemy down.  So do pickaxes.
As participants in this battle will be able to jump higher than most humans.
More to come...
Edit
Arrow Villains Vs. Nolan Villains
Edit

Two teams of villains will face off in this epic battle!  Both comic book villains in their live action counterparts! The Arrow villains! Callous enemies of Oliver Queen seeking money and revenge, or their own mere own psychotic visions! Vs. The Nolan villains! Malignant villains ov Batman guided by morals, obsession, or the sheer desire to spread chaos! 
Both teams are loaded with murderers, mercenaries, psychopaths, sociopaths, delusionists.  All these men will bring only chaos and suffering to the world.  Some of these men highly skilled.  Some highly intelligent.  Others are just pure psychopathic madmen.  Others are all these!  
But when it comes down to it, when these men face each other head to head in a fight to the death, which team will prevail? Which ones will survive?  Which one is......DEADLIEST!?!?!?!?
Arrow Villains
Edit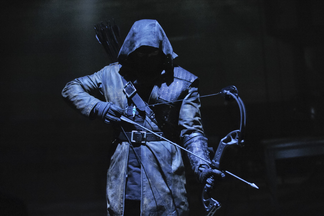 Malcolm Merlyn is the CEO of Merlyn industries and the father of Tommy Merlyn, Oliver Queen's best friend. Around the death of his wife, he visited the city of Nanda Parbat which is implied to be where he learned his fighting skills. It was recently discovered that Malcolm was trained by the League of Assassins. When Malcolm returned to Starling City, he began a plan. A plan to destroy the Glades (the worst neighborhood in Starling City where his wife died) using a device that would cause an earthquake. Malcolm almost killed Oliver twice, and in his third encounter with Oliver, he once again almost killed him with a rear naked choke of which Oliver was unable to escape, his life was saved by an arrow that happened to be on the ground next to him. He also had the help of former Army Ranger, John Diggle. Due to the fact that he had help, and that he still only won due to circumstances, I believe that Malcolm Merlyn may in fact be a better warrior than Oliver. At least as of now.
Abilities
Edit
Peak of human physical condition: In all three of his confrontations with Oliver, Malcolm had demonstrated to be quite a match if not a superior fighter. In their first confrontation, Malcolm was strong enough to severely injure Oliver and was able to break three of Oliver's ribs by kicking him in the abdomen repeatedly. He had also demonstrated sufficiently high enough strength to break Oliver's bow in half with a single strike and knead a steel beam with a single kick. His reflexes allowed him to catch an arrow shot at him by Oliver during their second confrontation (a feat only the highly skilled Billy Wintergreen and formidable Helena Bertinelli have demonstrated), He was also shown himself to be able to dodge an arrow and fire one directly after Oliver tried to shoot him in their first confrontation. Despite defeating him on two occasions, Malcolm claims that due to his youth, Oliver is faster than he is.

Master archer: As the Dark Archer, Malcolm proved himself as an expert archer with astounding archery skills, a feat acknowledged by Oliver seeing how tightly grouped the arrows shot to Adam's body were. He was successfully able to catch Oliver off guard and wound him. Because of this, Malcolm's archery skills can be considered equivalent if not superior to Oliver's. He uses a customized compound bow as opposed to Oliver, who uses a customized recurve bow.
Master hand-to-hand combatant

/

Martial artist: Malcolm had shown to be a highly skilled martial artist and hand-to-hand combatant. He was able to incapacitate two Chinese Triad members (disarmed one and kill the other with his own gun). Malcolm was able to best Oliver in hand to hand combat once, even knocking him out after a brutal fight in their second encounter. In a third encounter he was able to fight both John and Oliver at the same time. Based on what had been shown, his style seems to be a mix of martial arts similar to Oliver's, but with a more grounded focus on close combat. It should be noted that in the situations where he had bested or almost bested Oliver in combat always take place in tight quarters, suggested he was a superior fighter in terms of technique. This is possibly due to training for almost 20 years.
Skilled tactician/Genius-level intellect/Great business acumen: In his daily life, Malcolm was the CEO of Merlyn Global Group, overseeing its daily activities and ensuring its success as a multi-billionaire corporation. Malcolm had proven himself to be remarkably clever when it comes to devising plans and battle strategies, He even managed to catch Oliver off guard on at least 2 occasions and was almost able to kill him. One of Malcolm's plans involves the deaths of thousands of people living in the Glades, However, after he found out Oliver is Arrow, and that he knew about The Undertaking and the Markov Device, he accelerated his plan to level the Glades that same night. As a fail-safe for his masterplan (and in an attempt to maximise devastation upon the area) he had a second device placed in the east sector of the Glades, devoted to levelling this sector.
Skilled swordsman: Malcolm might be trained and particularly skilled with swords. In "Muse of Fire", Malcolm was shown fencing with experience, also in "Trust but Verify", Malcolm's secret room where he keeps his Dark Archer equipment was shown to house several racks of swords of various kinds. Furthermore, In "Sacrifice", he was able to easily dispatch 3 heavily armed police officers using a scimitar.