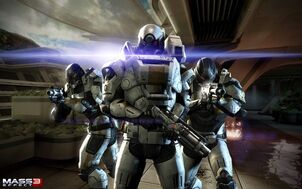 Two powerful well funded military groups meet on the battlefield, The
Crimson Lance
, the military might of the interstellar Atlas Corporation, and
Cerberus
, a human supremacist paramilitary force. The Crimson Lance represents the power and near limitless funding of the Atlas corporation and rules with a dictatorial iron fist over all they govern. Cerberus seeks to advance and protect humaity at any cost, even through the use of assassinations, cruel experiments, terrorist attacks, and even military force against human goverments. Both groups have extensive resources and powerful technology but when they clash in battle only one will triumph.
WHO IS DEADLIEST?
Weapons and Equippment
Crimson Lance
Unit Type
Troop Units
Weapons
Basic Troops
Lance Infantry
Malevolent SMG
Fortified Troops
"Badass" Infantry
AR 440 Pearl Havoc
Defended Troops
Lance Defender

Bloody Revolver

Large Sheild

Support Troops
Lance Egineer

Repeater Pistol

Scorpio Turret

Mech Support
Devastator

Dual massive-gauge Shotguns

Large blades
The Crimson Lance will go into battle with their infantry wielding the fast shooting Malevolent SMG, the "badass" leader units with the rapid-fire Pearl Havoc Assault Rifle, the shield carrying defenders with the hard hitting bloody revolver and the engineers with the common repeater pistols. The engineers also have the ability to deploy a burst-fire turret named the "scorpio turret". All Lance units wear simmilar armor and will feature energy shields.
The Lance will be supported by a large piloted mech, the Devastator. The Devastator is armed with two colossal shotguns and large blade bayonets on each arm.
Cerberus
Unit Type
Troop Units
Weapons
Basic Troops
Assault Troopers
M-25 Hornet SMG
Fortified Troops
Centurions
M-96 Mattock Heavy Assault Rifle
Defended Troops
Guardians

M-358 Talon Pistol

Large Shield

Support Troops
Cerberus Engineer

M-5 Phalanx Heavy Pistol

Deployable Turret

Mech Support
Atlas Mech

Rocket Launcher

Rapid Fire Mass Accelerator Cannon
Cerberus's troops will be armed with a variety of weapons. The assault trooper infantry are equiped with the burst-fire Hornet SMG, the Centurions are armed with the powerful semi-auto Mattock assault rifle, the Guardian units will be armed with the shot-gun like Talon Pistol and a large protective sheild, the enginners come in with the powerful Phalanx pistol and a rapid fire repairable turret. All units except the engineer are heavily armored and all units will use kinetic barriers.
Cerberus will recieve support from it's own pilpted mech, the Atlas. The Atlas is armed with a rapid fire mass accelerator cannon, rocket launcer and spinning claw used for melee.
Battle
Not yet.
Notes
Fully argued votes count for full, votes without much reason count for half, and nonsensical or ridiculous votes count for naught
Potatos will not count as vote, I'm still unsure if they can be trusted.
If you feel I misrepresented someone or something, or got something wrong, please just tell me