Comments

4
MK vs Marvel tournament R1 Final Battle Nitara vs Blade
Now I've finally reached the end of round one. Now to end it off the classic hunted vs hunter.
Nitara, the fierce vampiress that feeds on the life of others
VS
Blade, The fierce vampire hunter with all the strengths but none of the weakness'
WHO...IS...DEADLIEST?!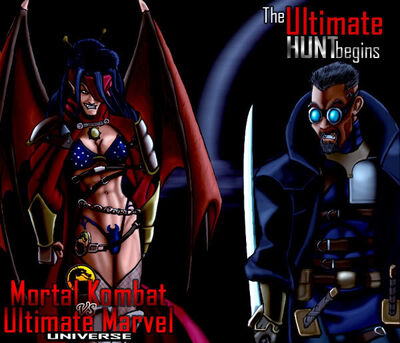 Nitara
| | |
| --- | --- |
| Close Range Weapon | Kama |
| Long Range Weapon | Blood Spit |
| Abilities | Skilled Martial Artist, Unicorn Kick, Suprisingly Flexible, Escape Artist, Furiocity, Can Heal herself by draining the opponents life force, Flight (debatable), Superhuman Agility and Reflexes |

Blade
| | |
| --- | --- |
| Close Range Weapon | Teakwood Dagger |
| Long Range Weapon | Remington 870 |
| Abilities | Superhuman Strength, Speed, Agility, and Durability, Healing Factor, Skilled Martial Artist and Marksman, Can sense supernatural creatures |
X-Factor
Nitara/Blade
96-Fighting Style-94
Both Nitara and Blade are rather skilled fighters but Nitara has trained in more then one fighting style and regularly ingages in hand to hand combat, while Blade usually uses weapons.
98-Experiance-100
Blade has much more experiance dealing with vampires and Nitara is almost no different, while Nitara does regularly ingage in combat, she has never faced any foe like Blade.
100-Furiocity-98
Both fighters are naturaly brutal, Blade is one of the many heroes of Marvel who will kill, and he shows no mercy when facing vampires. Nitara, though is almost as vicous as Mileena, she will literaly tear into her foes and even rip them apart if she wants to.
78-Weapon Use-100
Blade really utalizes his weapons and uses them at any chance possible, while Nitara prefers to ingage in hand to hand combat and doesn't use her weapons often.