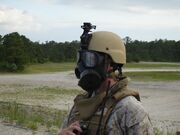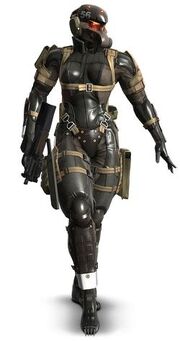 WARNING: do not vote for the spread shot clan just cuz the FROGs are only females, they are both realy good armys. I want this to be a good fight since it is second to last, so dont be sexist!!!!!!
| SPREADSHOT CLAN | Weapon |
| --- | --- |
| Close Range: | Commando Knife |
| Mid Range: | Saiga shotgun |
| Long Range: | TR1187 Urban Sniper |
| Special Weapons: | Blunderbuss |
| FROGs | Weapon |
| --- | --- |
| Close Range: | Machete knife |
| Mid Range: | FN-P90 |
| Long Range: | DSR-1 |
| Special Weapons: | SOP |
Spread shot clan's weapons
FROGs' weapons
BATTLE
the battle starts with the Spreadshot clan and the FROGs walking up to eachother in a forest. they stare at eachother fo a couple of seconds when BAM! A FROG with a DSR-1 sniped a spreadshot member from a tree. 4 SPREADSHOTS LEFT. A Sreadshot dniper from a nearby hill looks and tries to find that FROG in the tree and sees the glare from the scope. He waits for her to get up and aims for her chest and fires. All the spreadshots hit her.He then runs to join the fight.4 FROGs LEFT. The FROGs and Spreadshot members fan out. Two spreadshot members see a FROG coming toward them.They both have Saiga shotguns.The first one goes at her and gets shot by the P-90,and the second one shoots the FROG when she reloads. But then a Frog comes up to the spreadshot member and sticks the machete in his back.3 FROGs LEFT. 2 SPREADSHOTS LEFT. A spreadshot member from behind yells "hey!" and the FROG turns around,he shoots his blunderbuss at her but she does a misty flip (side flip) with her SOP to dodge it.He then groans and reloads but right as he is done reloading the frog stabs him in the throat. 1 SPREADSHOT LEFT. All the remaining FROGs stick together now as one sees a glare from a tree, thinking its her comrade, she walks closer and the other two FROGs leave her behind, she gets closer to the tree and hears someone say "bullet in your face" and the next second, she has 20 lead balls in her face.2 FROGs LEFT. The Spreadshot sniper goes and picks up the Blunderbuss. He starts following the last two FROGs. He then takes aim with his Blunderbuss and fires at one.1 FROG LEFT.It is now at one and one. The FROG equips the machete and goes towards where the gunshot was fired. The Spreadshot equips his Commando knife. The FROG doesnt see anything and gives a sigh of relife. Then, the last Spreadshot comes up behind her and grabs her. He grabs her chest and notices all the FROGs are female. He then says "a female army?" He starts to slit her throat slowly and say "woman dont belong in war, they never will."