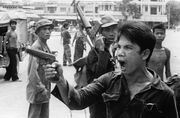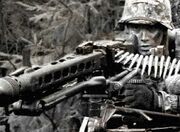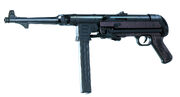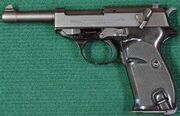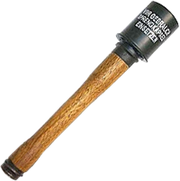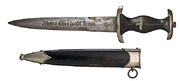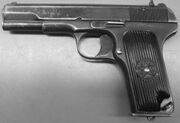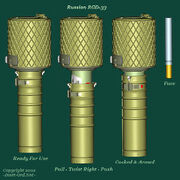 The Nazi Waffen SS: The elite troops who went from being Hitler's bodyguards, to the Spearhead of the German WWII Military machine.
VS
The Khmer Rouge: Pol Pot's guerillas who executed his dreams of reforming Cambodia.
WHO
IS
DEADLIEST??????
Weapons:
SS:
Long Range: MG-42,STG 44
Mid Range: Mp-40
Short Range: Walther P38
Special: SS Knife
Explosive: Stielthandgrenate
KR:
Long Range: RPD,AKM
Mid Range: Ppsh
Short Range: Tokarev TT-33
Special: Cane Knife
Explosive: Rgd-33
Voting ends September 5,2011 at 11:59 PM.
Battle:
5 Waffen SS soldiers are on patrol in Cambodia. They heard of a guerilla group called the Khmer Rouge. High command wants them guerillas dead before they completeley mess with Cambodia's crap. 5 Khmer Rouge guerillas come across the SS. They open fire with there RPK, AKM's, and Ppsh's and kill two Waffen SS soldiers.
SS:3
KR:5
The Nazis open fire with there MG-42 and kill a guerilla. Then a stielthandgrenate is thrown and another guerilla dies. The Khmer Rouge leader takes out his Tokarev and shoots a Nazi in the head.
SS:2
KR:3
One Nazi fires his MP-40 and kills a guerilla. The Leader sneaks up behind him and chops his head off with a cane knife.
SS:1
KR:2
The SS Leader grabs a STG-44 from a fallen comrade and kills another guerilla. Now its just the two leaders. Both are out of pistol ammo so the SS leader pulls out his Knife. They grapple, at first the Khmer Rouge Leader has the upper hand. He has the SS Leader on the ground, his foot on the SS Leader's throat, getting ready to strike the final blow when the SS Leader stabs the guerilla leader's leg with his SS Knife. Then he pushes him off and grabs a comrade's Walther and shoots the Khmer Rouge leader in the face. He yells "DEUTSCHLAND!!!!!!!!" and then proceeds to desecrate the bodies of the fallen guerillas.
WINNER: NAZI WAFFEN SS