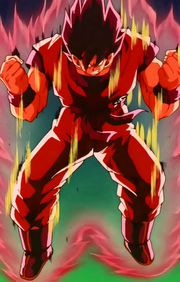 Goku protecter of earth VS. The Green Lantern Protecter of the earth. WHO IS DEADLIEST?
Goku will use body kamehameha kaioh-ken spirit bomb other energy attacks
Green Lantern will use any thing he wants to make with the ring
X-FACTORS
100 SPEED 96
78 INTELLIGENGE 98
98 ENDURANCE 96
70 CREATIVENESS 92
3 DAYS TO VOTE
THE BATTLE:
The green lantern has been hearing reports of a strong presence on earth so he's investigating a destroyed
roky area.When suddenly a figure coverd in broken pebbles stands up an said "whew i think i practiced to hard"."Stop" shouted green lantern "your under intergalactic arrest".So green lantern trapped goku in a bubble but goku simply teleported out of it.Goku then said "wow nice trick my turn kaioh ken kamehameha.Hal jordon had never seen any thing even like that so in a attempt to save him self he made a energy bubble around himself.There was dust every where after that goku was suprised when the dust clearded and a silloutte appeard the green lantern had survived the blast but he was injured.Begone green lantern screemed as he nailed goku with a hammerthe size of 4 cars.Goku was launched several hundred feet away then he said "alright lets see if you can handel super saiyen 3".And so goku transformed and nearly punched in green lanterns chest with one quick hit to the chest.Green lantern was coughing up blood he then trapped goku in a outlin of his body with energy goku said "nice try" and teleported out.The ound heard for miles was kamekamekamekame the green lantern looked behind him and said "this again" and made an energy sheild goku then whisperd to himself "perfect"goku then teleported right behind green lantern and said "bye bye" the green lantern only had enough time to turn his head before goku screamed "kamekameha" and incinerated hal jordon killing him instantley.
WINNER: GOKU