Comments

3
Redkite525's Call of Duty: Modern Warfare 3 Tournament! - Entrance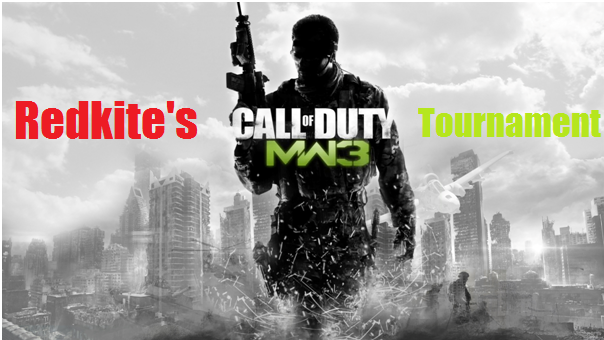 Hey guys, it's Redkite here again bringing you something abit different this time. I'm doing my first tournament!
I've decided to follow the example Las set with a video game tournament, the game being Call of Duty: Modern Warfare 3, Infinity Ward's hit sequel to Call of Duty: Modern Warfare 2.
Introduction
How it's going to work
Okay, to get to straight in:
This is a wikian vs. wikian tournament.
Player's will enter their character, guns, equipment and other data in the comment section.
Only guns and perks that appears in Call of Duty: Modern Warfare 3's multiplayer may be used.
When a suitable number of players have entered for the tournament or the entrance date surpasses, the tournament will begin.
Wikians will be randomly pitted against eachother in a 1 vs. 1 deathmatch or tag team battle, but I'll get to that soon.
The battle between two wikians will be chosen at random using the old name in a box technique I have in person.
A blog post will be made where voters will vote for a winner based off the character's bio, guns, equipment , perks and other data.
The blog battles will continue until the final where the two remaining warriors will go head to head and a battle will be written for it.
Entering
To enter the tournament, your vote must involve:
Your character's bio - Their name, age, history, etc.. (Don't be stupid and put silly things, I'm not having 8 year old warriors with water guns.)
Their weapons - A primary weapon (Assault Rifle/Submachine Gun/Lightmachine Gun), a secondary weapon (Sniper rifle/Shotgun, PDW), Special (Explosive launcher or side arm [G18, etc] with an attachment), Equipment (Claymore, C4, Handgrenade, Flashbang Grenade) and an attachment to go on your pimary or secondary weapon.
Perks, as like the class system in Modern Warfare 3, you may pick three perks from each tier.
Other important information.
General Rules
All weapons you choose to add in your vote must appear in Modern Warfare 3's multiplayer.
Your character can have any experience in army, naval, airforce, private contractors, mercenary, militia, etc..
Don't be a prat with these entrances. If you give some sort of stupid vote you'll be out of the tournament all together.
Good luck!
Battles - Solo Tournament
The warriors in order of entrance are:
5 Warriors have perished and the tournament is proceeding to it's next wave!
In this wave, 3 warriors will be selected at random for a free for all battle while the remaining will fight for their lives. The emerging victors will battle for the final title of MW3 tournament winner!?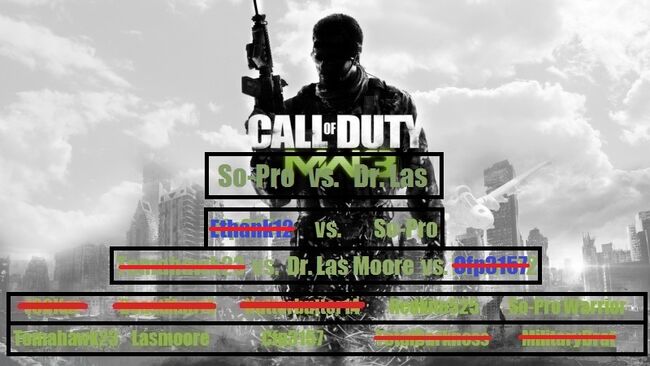 Notes
Apologies for any mistakes.
Please inform me of any mistakes or thing you feel I need to add.
Best of luck to all of you.
Sorry about the stupid size of photo.
By agreeing to enter this tournament, you are agreeing too post a vote for a battle relates to the tournament everytime as you would expect votes for your battle.