The War is On
Edit
Welcome to the war at Deadliest Fiction Wiki, there's much to be done so come on board and join the fight. Here's some tips that may help you here:

hey J. I was wondering if you could tell me how to do battles. please leave a message. lol. Brad h. 04:48, September 11, 2011 (UTC)
how do you set up the fight?Brad h. 05:12, September 11, 2011 (UTC)
J go on the community chat. ill ask u their. or deadlies warrior chat?Brad h. 05:13, September 11, 2011 (UTC)
wana join chatTomahawk23 19:12, September 24, 2011 (UTC)
wana join chatTomahawk23 19:13, September 24, 2011 (UTC)
EU vs. PAC
Edit
I have a new battle, European Union vs. Pan-Asian Coalition, that is up! It will be a massive 60-on-60 battle! Vote!Goodboy12 16:44, October 2, 2011 (UTC)
hey dude wana join chatTomahawk23 20:15, October 4, 2011 (UTC)
Terrordome Colab: Want to add your Pamela Vorhees vs Norman Bates to My Terrordome Tourny for a collab? You do everything but just add the battle to my tourny. La$m00r3 23:25, October 4, 2011 (UTC)

Lol, i was gonna add Sawyers (Besides Leatherface) vs The Devils Rejects. Care to add it to my Terrordome? Another Collab? Im looking for a good match against Chop Top. La$m00r3 04:49, October 15, 2011 (UTC)
You have officially been awarded the Tesla Award!!!!!
Congradulations, this award is only given out to the many great warriors that get on Teslas good side!!!!! here it is!!!!!!!! wear it proud, and dont forget, you are special just for having this award, so i now give you this Award in honor of your greatness unto all Teslakind, thank you, and we appreciate your hard work and effort in the community!!!!!!!
with all the best to come Tesla Man 22:05, October 30, 2011 (UTC)
The Tesla Award
Tesla Man 22:08, October 30, 2011 (UTC)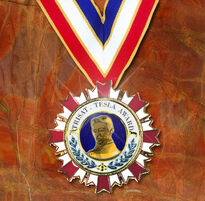 Here is the line i want you to use when auditioning for your part
"Unit PG-07 and Unit PG-05 have been disabled. All Units Fire"
Astrotorical -

..as he poured the sands of time onto the fabric of space, the traveller was born..

:
TALK
Like my signature? just use this template
Heres a line for Surek:
"Strategy is the Map of Creation. Take this map as a symbol and begin your journey, my friend"
Astro
did you get my messege on DB wikiTomahawk23 14:42, November 12, 2011 (UTC)
i finnished writing my battles, i might not see for a little while, so i was just gonna leave this for you to look at and read while were not in contact http://deadliestfiction.wikia.com/wiki/User_blog:Tesla_Man/Creature_From_The_Black_Lagoon_Vs._Wolfman
im still working on it, so dont worry
Tesla Man 21:40, November 13, 2011 (UTC)
Care for a Collab?
Edit
Dr. Las Moore - "Hurry now! My muse is a fickle bitch, with a very short attention span!"
― Sander Cohen:
TALK
Hey Hey, its Fat Albert! Opps, no its not, its me! Nao, im interested in your Pirates vs Zombies match and i would vreally like to do a collab with you if you want to. Also, I like using Puss in Boots aas a warrior, i want to use him after seeing the movie, but i think pitting him against Zorro is a bit unfair, try another animal who uses swords.
The Final Chapter
Edit
I have posted the last chapter of the CvA tournament series and the final tournament I would do before I retire from Deadliest Fiction Wiki. As this would be my final tourney, the style has completly change to make this one of the unique tournaments of this wiki and also gives users a chance to collaborate on certain battles in the tourney
http://deadliestfiction.wikia.com/wiki/User_blog:MrPacheco101/MrPacheco101%27s_Final_Production:_CvA_IV:_The_Midnight_Carnival

05:30, December 9, 2011 (UTC)
Your vote on Voldemort vs Darth Vader
Edit
Hey there. In the fight Voldemort vs Darth Vader: http://deadliestfiction.wikia.com/wiki/User_blog:MilitaryBrat/Lord_Voldemort_vs_Darth_Vader
You seemed to be supporting and defending Voldemort. While this was so, I did not see you actually vote. So maybe you should go ahead and type a comment in vote format so that that will be tabulated, and your opinion will work towards declaring Voldemort as the deadlier warrior.
HaydenStudios 23:01, December 19, 2011 (UTC)
Happy Holidays
Edit
Hi JWarrior. I just wanted to say Happy Holidays.
PS- We r in the tourny's next battle. Plz vote!
Sport Shouting 01:23, December 24, 2011 (UTC)
hey dude can you give me ratings for Adem Jensen for x-factors including
Training/Skill
Intelligence
Ruthless
Tactics
Stealth
Psychological Health
Psysicality
Intimidation
and Killer Instinct
Tomahawk23 20:37, December 27, 2011 (UTC)
thanks dude he's going up against the Red Skull next match looks like hill be quit a match for the Red SkullTomahawk23 21:54, December 27, 2011 (UTC)
User Superhero Tournament
Edit
Just reminding you that if you don't pu your hero's info in, your spot will be lost.
Vinnie Bones 01:31, January 15, 2012 (UTC)
Fantasy user tourney
Edit
Please? Need a lot of entrants, team fantasy user tourney, hope you are interested.
http://deadliestfiction.wikia.com/wiki/User_blog:Codgod13/Team_fantasy_user_tourney
I know what you're thinking... did he fire six shots, or only five? Well this pistol has a seven round magazine. Good bye. C0D60D13 03:33, January 18, 2012 (UTC)
The Rise of the TDBU Tourney is now underway with a new battle!
Qin Shihuangdi: The man who united China and brought it into the new age, creating monuments like the Great Wall and the Terra Cotta army, vs, Attila the Hun: The Ruthless Killer of Romans who bacame rich and plentyful from his rades and plunders of towns and cities.
Who is Deadliest?

http://deadliestfiction.wikia.com/wiki/User_blog:Tesla_Man/Rise_of_the_TDBU:_Qin_Shihuangdi_versus_Attila_the_Hun
I heard your looking for experts for your third season, I would like to vouch as a expert for Revan. Warl0rd13 04:13, March 11, 2012 (UTC)
Bayonetta vs Dante
Edit
Dr. Las Moore - "One does not simply walk into Mordor..."
― Boromir:
TALK
I LOVE Both games. Bayonetta IS the spirtual succesor to Devil May Cry afterall. But i truly think Bayonetta is the deadlier warrior, plus i had more fun with her game. So i'll represent Bayonetta. レ∆ㄅ㎡◊◊Я∑ 19:21, March 11, 2012 (UTC)
Re:Bayonetta vs Dante
Edit
Dr. Las Moore - "I'm Batman."
- Batman :
TALK
I just made Bayonetta's Page. My entire Weapons and Abilities section didn't even fit in the infobox. XD. Anyways, use this to summarize Bayonetta's Powers and Abilities:

Her Own Hair! Her hair can grow to giant size and it can be used to whip, daze, and even kill her foes. She is a witch and a magic expert. She can grow giant butterfly wings to float. Can turn into Crows for flight and attacks. She can also turn into a magical panther. She can also summon demons from hell to assist her in combat, and is experienced in fighting other demons and angels. She keeps two pistols in hand and two built-in to her heels. She has two shotguns, Onyx Roses, that fire Imprisoned Fairy Souls! She also has a Deadly Katana, Shuraba, which contains the soul of the demon Ashura. She also has a trusty whip, Kulshedra, which contains the soul of the demon of the same name. She has a pair of flaming and electrifying claws that contain the soul of the thousand-armed demon, Durga. On her heels also are the magical ice skates that contain the soul of the immortal ice witch, Odette. She also has a pair of Rocket Launchers that can be attached to her arms or legs. She has a pair of nunchaku that combo as a gun, known as a Gun-chuk. Bazillions is a quadruple pair of laser handguns built by a long-lost super civilization.

I hope that helps, Bayonetta shall win!レ∆ㄅ㎡◊◊Я∑ 00:09, March 12, 2012 (UTC)
I might not bro
Sport Shouting 23:23, April 1, 2012 (UTC)
Nostalgia Tournament Challenge From Lasmoore
Edit
Your Rogue vs Lasmoore's Space Ghost.
So-Pro Warrior 08:50, April 10, 2012 (UTC)
Dr. Las Moore - "I am Andrew Ryan, and I'm here to ask you a question. Is a man not entitled to the sweat of his brow? 'No!' says the man in Washington, 'It belongs to the poor.' 'No!' says the man in the Vatican, 'It belongs to God.' 'No!' says the man in Moscow, 'It belongs to everyone.' I rejected those answers; instead, I chose something different. I chose the impossible. I chose... Rapture, a city where the artist would not fear the censor, where the scientist would not be bound by petty morality, Where the great would not be constrained by the small! And with the sweat of your brow, Rapture can become your city as well."
― Andrew Ryan :
TALK
Uhh, Yes I did, very awesome indeed. But take it to MLP Chat please, MLP isn't for here. Haha. レ∆ㄅ㎡◊◊Я∑ (talk) 20:24, April 21, 2012 (UTC)
A Devil Rides In Kyoto!
Edit
Midnight Carnival straying away from the modern times of guns and power phasers to the good ol' 19th century Old West with this All-Star cast....
Jonah Hex : Easily one of the most skilled bounty hunter in the world, Jonah Hex has made his name notorious in the Old West with his uncanny marksmanship and his own disfigured face.
&
Himura Kenshin : Known as the legendary "Battoai The Man-Slayer" throughout Japan, Kenshin Himura has made a name for himself as the legendary assassin working for the revolution group Ishin Shishi during the end of the Edo period (See the Batkumatsu for more detail.). He now uses his sword to protect the innocent and to never kill again as retrobution for his crime.
Your vote will really be appreciated.

04:52, April 24, 2012 (UTC)~
A big reason is that t he majority of his skills come from his intelligence actually. HK-47 was extremely intelligent, and a master stratigest. He was able to pull of calculations in just a matter of seconds, he has been shown multiple times to be able to know his opponents move right before they make their move. HK's intelligence and tactics, allows him to find ways around his threats, find his ways around armor, which could be useful going up against a heavily armored opponent like Wrex. He has bosted many times about tactically killing Jedi using rockets and mines. He won't have rockets and mines in this fight but.... he'll have a flamethrower. Frankly the way I see it he'll use his agility to get in close on Wrex, then hit him with his flamethrower, and his calculations will simply allow him to counter Wrex, or avoid whatever he does. Plus his armor could help him keep his head in the game even though Wrex has stronger armor, really the flamethrower will do the talking and HK's armor will work as extra backup along with his agility. Btw am I allowed to vote on this)Tomahawk23 14:28, May 6, 2012 (UTC)
In Support of Urdnot Wrex
Edit
Sorry about the delay- here's my argument:
Urdnot Wrex should take this battle without difficulty. As a member of the proud Krogan warrior people, Wrex has spent his entire life fighting anything and everyting, and when you're a Krogan that life can be a long one. Wrex has spent thousands of years honing his skills as a warrior, mercenary, pirate and hero to the galaxy- far longer and with far more impressive feats than HK-47 has. Another advantage his age has granted him- Biotic Powers. Comparable to the Force itself, Biotics are a lethal weapon that can change the course of a battle, throwing enemeies around, shutting down shields, locking foes in place and can be used to form an additional level of protective barriers. These barriers would form on top of Wrex's heavy Krogan Armor, which is already an effective defense on its own, but also on a level of Kinetic Barriers which stop most projectiles without harm. These barriers go down quickly under sustained fire, but are powerful enough to stop most shots long enough for a warrior to get behind cover, plus- Krogan charge into battle with a redudant nervous system and with it, it's almost impossible to cripple them or slow them down, thanks to having a back-up for nearly every major organ and part of the body. At the end of the day, Urdnot Wrex has far superior training, experience, skill and tactics that combine with his superior Krogan biology, warrior people traits and incredible arsenal of weapons and powers. The Krogan were bred for one thing- to wage war. Against organics, synthetics and any other form of life that stood between them, and combined with literally thousands of years of fighting, HK-47 doesn't have a prayer of matching Wrex in combat.
Drayco90 02:01, May 8, 2012 (UTC)
Expert opinion for Revan.
Edit
This should be a easy win for Revan, why? Because he is a far better stratigiest, he pretty single handedly saved the Rebublic from destuction at the hands of the Mandalorians and the only reason he didn't take the Rebublic when he went to the darkside was Malak's betrayal and he took his revenge soon after and slayed his former apprentice, who at the time was the most powerful of the known Sith lords, and he fought other very powerful foes including Terentatek( two at once at one point) and even the Emperor of the Sith, THE TRUE SITH. He also had far better training as he was taught by some of the greatest Jedi and even some Sith ever known while Starkiller was only trained by Darth Vader who lost a considereble amount of his connection to the force when he became a cyborg and Starkiller is also very undisciplined and wont think of a way to fight Revan like his foe will, Revan will easily fine ways to counter the far to aggressive attacks that Starkiller will try to fight him with, but perhaps the best advantedge Revan has is his ability to both heal himself and drain life from Starkiller, this along with his superior mastery of the force will grant the Revanchist a very easy victory.
Warl0rd13 22:45, May 17, 2012 (UTC)
Starkiller's Expert's Opinion
Edit
Starkiller a.k.a. Galen Marek has this battle with ease. While he may not be a good strategist or any of that other stuff there is one thing he is good at. That is being literally a ONE MAN ARMY! Starkiller has faced off against hundreds if not thousands of Stormtroopers, Natives of Felucia and Raxus Prime and take on the gigantic Junk golems and more. He has survived against Jedi that are equally as powerful as Revan such as the Jedi Master Shakk Ti and even taking on and defeating Darth Vader and the Emperor by himself. Reven received help most of the time from his allies where as the only allies for Galen were Juno his pilot and Proxy and they didn't fight by his side at all only assisting him in his training and getting to planets to assassinate the remains of the Jedi Order. He has even been able to defeat hundreds of Rancor, Imperial AT-ST, and other types of Imperial Walkers and even defeated a Sarlacc Pit that had assistance from Jedi Master Shakk Ti and the natives of Felucia. The odds were literally against him as it was him against the Galaxy and he still prevailed over his missions with ease. Starkiller has gotten out of tough situations every single time even using the force to bring down a STAR DESTROYER! something that not even Revan has been able to do with the force. Starkiller has been able to take down millions of his foes by himself and is a one man army as NO ONE! Not even the Mighty Empire or Emperor could take this guy down. Not to mention he was just a Apprentice on the Dark Side and he was being put up against MASTERS of the Jedi Order and even they weren't enough to beat him even when they had assistance from their allies. He killed millions of enemies, defeated 5 Powerdul Jedi/Sith even though he was a apprentice and brought together the Rebellion that would save the Galaxy after years of torment from the Empire, and even used his foes force to his advantage such as when they threw something at him he would either use it to his advantage as a elevation to reach them or just throw it back at them and while they are either using the force to stop that object in mid air or while they were recovering from the blow he would just follow up with a quick dash and strike from his Lightsaber. Starkiller gets this battle with ease.
The Warrior of the Universe So-Pro Warrior 23:32, May 17, 2012 (UTC)
Wanna be a chat moderator?
Edit
Hello there JWarrior89.
You might be aware that this wiki is right now entering a new era. If you aren't up to speed on what's going on, then see this blog post. With that, we are nominating users to be new chat moderators. I really, really think you'd make a good chat moderator. The only problem is, you haven't been super active lately. If you're willing to be more active, then I'd love to nominate you as a chat moderator. If you're busy with real life, then that's fine, I just wanted to notify you that you have a chance if you get a little more active.
Han Solo thing
Edit
Just got your message, here it is.
---
Han would simply demolish Indy. His laser pistol is something out of this world to Indiana Jones. The vibroblade is a way better killing tool than the bull whip, and that's Indy's best weapon. Han was also able to defeat Stormtroopers with armor on. Indy had trouble with unarmored cult members. He even defeated the best bounty hunter in the galaxy without even looking (like a boss). Indy also (as seen in Kingdom of the Crystal Skull) has no idea when and what to do when a possible double agent is there. It's very easy to say that Han Solo would win.
Sport Shouting 01:44, May 28, 2012 (UTC)
Hey it's SS. Saw your message. I don't think I could do much better than what I have. I think that's what I'll have to send in. I did make one minor change as well.
Title Card-Arbiter vs Fenix
Edit
Viola! (if you'd like me to change anything please say so) ▬▬Arrow▬► 18:16, June 22, 2012 (UTC)
Expert's opinion
Edit
This should be an easy one for Fenix, his weapons easily outrange the Arbiter, not to mention can hit a helluva alot harder. The Lancer and Longshot easily outrange and outperform the Plasma rifle and carbine Fenix has fought enemies that would make Thel piss his pants, the only place Arbiter can really get the edge is up close, and even then I doubt he could overcome Fenix's brutallity. Plus his HUGE edge in terrain familarity is just the icing on the cake. He will literally curbstomp Thel Vadam with his pure brutality and rage. User:Richard Starkey The South will rise! 00:48, June 23, 2012 (UTC)
Dr. Las Moore - "We all make choices. But in the end, our choices make us."
― Andrew Ryan:
TALK
Your making pages in the wrong format and it kinda needs to stop, sorry if I'm sounding like a prick but we're trying to revamp pages here and the way you are making them isn't helping. Please start making pages in the correct format, look at Master Chief for example. Please be more specific with the Arbiter you are using also as Ripa 'Moramee already has a page and users will get confused at your page. Please revamp it and give it correct titling, thank you.

REDIRECT User:Lasifer/Sig 23:32, June 24, 2012 (UTC)
Re:Re:Pages
Edit
Dr. Las Moore - "One does not simply walk into Mordor..."
― Boromir:
TALK
Yeah, I'd gladly hel pyou revamp the page, mate. Just in the future, make it according to the new format.

REDIRECT User:Lasifer/Sig 00:27, June 25, 2012 (UTC)
Title card, Dante?
Edit
I'd love to make you a title card, one snag though.
There are ao many Dantes I need to know which one you'd like me to use so I don't use the wrong one
Cheers ▬▬Arrow▬► 18:40, June 30, 2012 (UTC)
Titlecard Dante vs Beyonetta
Edit
Viola! hope you like it (the usual-If you'd like me to change something or use different pics please says so)
(Also, please use subject headlines when leavign your messages on talk pages)
▬▬Arrow▬► 18:55, June 30, 2012 (UTC)
Bayonetta Argument part 1
Edit
Dante stands no chance against Bayonetta what so ever. At all. Like 0.0000000000000% chance. Bayonetta has a much bigger and badder arsenal of weapons than Dante can ever dream of. First off, Her own friggin' hair will be able to rip Dante the Terrible Character to shreds in this fight. Her hair can grow to giant size and it can be used to whip, daze, and even kill her foes. She can also turn into several animals for different advantages, such as Buttefly Wings for Flight, Crows for flight attacks, and even a Panther, how badass is that? Being a Witch that Hunts Angels, she has plenty of experience under her belt, even defeating the creator of the universe, Jubilee, that throws GALAXIES! Along with many other Angels and large creatures. Her weapons are also very impressive, and Bayonetta has mastered each and every one of them. Bayonetta carries her signature pistols, Scarborough Fair. Bayonetta fights with four pistols, one in each hand and one attached to each rear of her high-heeled shoes. I'll finish teh rest when the blog is up.

Hey
I'm sorry I didn't post m arbiter opinion, I wasn't on the wiki for a long time
So...Sorry
Urbancommando77 00:43, July 8, 2012 (UTC)
Dante's Expert Opinion
Edit
Dante has this Battle. He has the skills where he has it in both Weapon and Combat skills. He has faced many powerful Demons and has survived stuff that NO ONE ELSE COULD EVER SURVIVE. He has done things that people would call Impossible and come out of these situations alive. His sword skills are incredible matching those of his brother Vergil. Dante is incredibly fast and as such has shown to dodge bullets, and move so fast that he appears to teleport, he is beyond super-human strong as he has shown that he can off course punch through and/or shatter stone with little difficulty, BUT he CAN also often overpowers demons much larger than himself and that means something. Dante has survived things that no one could EVER Surivie if it happened to them these involve shrugging off wounds that would either disable or outright kill a normal Human, such as being impaled through the chest with his own sword, struck by opponents with superhuman strength, or being shot point-blank in the head and stomach. Dante has also proven himself to be an extremely capable combatant, as he has shown incredible proficiency with many types of weapons including several different types of swords, gauntlets, etc... displaying near mastery of them within moments of picking them up. He is also quite skilled in unarmed combat, managing to disarm and subdue Nero (Devil May Cry 4) bare-handed, and use weapons like the Beowulf. His skills with his guns Ebony and Ivory is impeccable as he has displayed enough accuracy to hit targets as small as the pommel of his sword; shoot his opponents' bullets out of mid-air; and hit the same target over and over with such unerring precision that his bullets stack on top of each other. Not to mention he has his Demon Powers that he can use when he activates Devil Trigger which release his demon power. When in Devil Trigger mode his Speed and Strength increase even more making him even MORE Faster, and Stronger. In all he has the skills in Both Hand-to-Hand, Close Range, and Long Range Combat. His Super Fast Speed will help him dodge every single Bullet Bayonetta fires at him and his skills and 10x better and more POWERFUL Super Strength and better Weapon skills at Close Range will easily beat that of Bayonettas. Plus with his more better skills with his guns it doesn't matter how many guns Bayonetta has as IT DEPENDS ON THE PERSON WIELDING IT! and in Dante's hands Ebony and Ivory will easily be able to out do Bayonetta's guns. And once he uses his Devil Trigger Bayonetta will have a Hard time hitting him and fighting him in Close Range combat. Dante has this battle with his Skills, and Combat Experience fighting many tough and Powerful Demons.
The Warrior of the Universe So-Pro Warrior (talk) 07:39, July 10, 2012 (UTC)
Re: Fallout Tourney Question
Edit
Dr. Las Moore - "A man has a choice... I chose the impossible."
― Andrew Ryan :
TALK
To answer your question, I will allow Cyberdogs.
Dr. Las Moore - "One does not simply walk into Mordor..."
― Boromir:
TALK
I'll make revamp it tomorrow for ya.
More starwars
Edit
Dude, your star wars fights are FANTASTIC!!! I need more. You should do a realisitic Yoda Vs Darth Vader.74.72.159.170 01:37, August 21, 2012 (UTC)
Joker vs Genki
Edit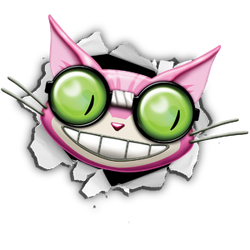 Here's a weapon list for Genki:
Melee: The Penatrator
Handgun: 45 Shepherd
SMG: TEK Z-10
Explosive: Annihilator RPG
Special: Mollusk Launcher
Will add on if needed
Undead RVD (talk) 00:45, January 15, 2013 (UTC)
Joker vs Genki: Questions
Edit
Here's a Revise of what you sent me:
Joker:
Melee: Crowbar
Close Range: Razor Sharp Playing Cards
Mid Range: Tommy Gun
Long Range: TAR-21
Explosives: Dynamite or C4
Special: Joker Venom
Genki:
Melee: The Penatrator
Close Range: 45 Shepherd
Mid Range: TEK Z-10
Long Range: K-8 Kruvov
Explosive: Annihilator RPG
Special: Mollusk Launcher
Now, what about X-Factors?
Undead RVD (talk) 13:34, January 15, 2013 (UTC)
RE: Joker vs Genki X-factors
Edit
The X-Factors seem fair. I can set up the page but I'd prefer it to be on your blog. I already got a battle going and an entire tourney to work on after that battle.
Undead RVD (talk) 14:11, January 19, 2013 (UTC)
Wanna Collaborate?
Edit
Hey JWarrior it's SS. I wanted to know if you wanted to collaborate on a battle. You pick a genre. We'll decide the warriors.
$P0RT $H0UT!NG 00:23, January 21, 2013 (UTC)
The Battle of the Criminally Insane: The Joker vs Professor Genki
Edit
Got it done. It still needs dome editing but you can take care of that. Edit this and post this on your blog. Have a GREAT DAY. Oh, also throw in a thank to Utter noob for the Title Card.

It is time to pit the two most dangerous psychopaths in Fiction and see who will win in this battle of the Criminal Insane:
The Joker, the Clown Prince of Crime, who has wreaked havoc on Gotham City and made himself Batman's greatest foe...
VS
Professor Genki: The Super Murder Cat, who created his game to cause death and suffering in the city of Steelport...
WHO IS DEADLIEST?!
The Joker*
Edit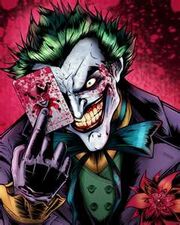 The Joker, real name unknown, is a homicidal maniac and the archenemy of Batman. Although his full origin is truly unknown, the Joker is known to have been forced to swim through a vat of chemicals which turned his skin white, his hair green, and left his face permanently locked in a double Glasgow Grin. Completely unpredictable with no regard for human life, the Joker finds murder and mayhem funny, and is perhaps the most dangerous man on New Earth with a body count stretching into the thousands, all centered around his obsession with destroying the Dark Knight.
Joker:
Melee:Crowbar
While not meant to be weapon, the Joker uses it like a club to beat and kill people. His most well use of it is when he beat the second Robin to near death and then blow the building he and his mother were in.
Close Range: Razor Sharp Playing Cards
These little devils are a creation of the Joker. The playing cards are great for a deadly surprise.
Mid Range: Tommy Gun
The Thompson submachine gun, or "Tommy Gun", is an old sub-machine gun that gained famed use from the Mafia back in the 20s. The Joker has made much use out of it. It uses .45 ACP rounds, has a mag size of 50 rounds and a range of 50 meters
Long Range: TAR-21
The TAR-21 that the Joker uses has a strange Sniper variant with a longer barrel and laser sight. It uses .50 calibre rounds, though the shear power of it may not be that great as it won't kill Batman in one hit. Its Range is around 1,600 meters and has around 6 rounds.
Explosives: C4 and Dynamite
The Joker will be bringing C4 and Dynamite. C4 for the power. Dynamite for the Style.
Special: Joker Venom
The Joker's favorit tool of mass murder is the Joker Venom. This deadly chemical concoction will kill anyone who breaths it and they die laughing and with a grin.

The venom will easily work on the Joker's thugs and Genki's Mascots. However, The Joker willit may not effect Genki as he is inhuman and has a strange biology.
Professor Genki*
Edit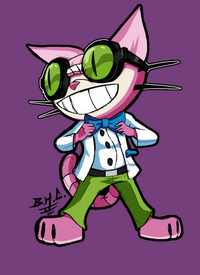 Genki is the creature host of Professor Genki's Super Ethical Reality Climax and Genkibowl VII. Despite his cute and cuddly appearance, Professor Genki is very sadistic and cruel at times, as he gains pleasure from the death and sacrifice of others and at one point during Genkibowl VII, Tammy states that he is known to ship people off to North Korean prison camps if they look him in the eye.
Melee: The Penatrator
The Penetrator is a melee weapon constructed from a metre-long dildo attached to a handle of a baseball bat. Do not be stupefied by its appearance, it is deadly as Baseball bat covered in railroad spikes and chains. The physics of the weapon seem to be that of a jelly dildo, as seen when attacking or running.
Close Range: 45 Shepherd
The .45 Shepherd is a powerful, accurate, slow-firing firearm that is much more potent per-shot and much more accurate (at first) than the KA-1 Kobra favored by law enforcement. It holds 8 rounds, uses .45 ACP, and its heavy barrel ensures that it's extremely accurate (75 meters).
Mid Range: TEK Z-10
The TEK Z-10 is an accurate SMG used by the gangs of Steelport. Its performance is identical to the MP7, having a mag size of 40 rounds, uses HK 4.6×30mm rounds and has a range of 200 meters.
Long Range: McManus 2015
The McManus 2015 is a powerful sniper rifle based off the Barrett M82. It uses .50 calibre rounds, carries around 6 rounds and has great accuracy (1,800 meters).
Explosive: Annihilator RPG
The Annihilator RPG is a powerful single-shot rocket launcher. It has great accuracy, packs a serous punch and can cause damage to multiple enemies to do to its blast radius. It functions identically to Airtronic RPG-7 USA.
Special: Mollusk Launcher
The Mollusk Launcher is a bright weapon that fires live octopi[2] at its targets. The octopi - which become attached to a target's head upon contact -have mind-controlling effects that, when fired at a human, will make them friendly, and if armed, even assist the user in combat. The octopi can also be detonated with a the same damage and blast radius of the Satchel Charge.
X-Factors*
Edit
The Leaders
Edit
Joker vs Genki
90 Intelligence 97
Genki a slight edge due to the fact that he was a renowned scientist before his transformation, and the fact that he made a magical device to fuse him and his cat together. EDGE: GENKI
60 Strength 100
The Joker is not a champion fist fighter, nor is known for his physical strength. Professor Genki, on the other hand, is stated to be 5 times as strong as a normal enemy when unarmed. EDGE: GENKI
60 Endurance 120
The Joker is a normal man. Infact, he is said to be very weak physicaly. Genki is stated to have superhuman durability, even able to survive blows from the Apoca-fist, which reduces ordinary foes to a bloody pulp with one blow. EDGE: GENKI
100 Creativity 100
Both the Joker and Genki have highly effective and deadly weapons, including some creative ones like the Joker Venom and Mollusk Launcher. EDGE: EQUAL
100 Brutality 100
Both combatants are incredibly sadistic and cruel. EDGE: EQUAL
99 Tactics 75
Whenever Genki shows up on the streets of Steelport, he essentially runs around attacking people. The Joker is much more of a planner. EDGE: JOKER
100 Experience 80
Professor Genki, while occasionally engaging in a little mayhem outside of work, mainly operates his Super Ethical Reality Climax game show. The Joker has constantly engaged in combat with numerous foes, especially Batman. EDGE: JOKER
100 Death Escaping 100
Both Warriors have escaped death and neither can stay dead. EDGE: EQUAL
60 Team's Loyalty 100
The Thugs the Joker has are not very loyal. They only fight for money or other gains. The Mascots, on the other hand, are willing to die for Genki. EDGE: GENKI
Who: The Warriors
Edit
The Joker will be joined by three Thugs the Joker has hired to help him out. Professor Genki will have three Mascots joining him.
Where: The Battle Field
Edit
The Battle will take place in one of Professor Genki's very own Super Ethical Reality Climax arenas, Filled with plenty of traps, fire, electricity and allot of PAIN!
Why: The Reason
Edit
(JW, you figure out WHY they are fighting) Adjust the parts with the * next to them, make them so that they have 2 = next to them on each side instead of 3 = in Source mode. Undead RVD (talk) 02:54, January 21, 2013 (UTC)
The Joker vs Genki Results
Edit
We are reaching the end of this battle. How should we end it. Do you want a winner or are you OK with a tie. Personally, I would like a tie. It would make for a great epilog I had in mind. I may vote for Genki to make it a tie later. Shoot me back a massage as soon as possible.
Undead RVD (talk) 02:56, January 31, 2013 (UTC)
The Joker vs Genki Epilog
Edit
The Epilog goes like this:
Joker is back at Arkham Assylum, having been captured again. He's still really beat up but he doesn't care. He then gets a box from someone. The Joker opens the Box and finds a note from Genki saying something like "Keep the killing going" and int their is one of Genki's exploding octopi and a detonator next to it.
Write as you wish it to be.
Undead RVD (talk) 13:31, January 31, 2013 (UTC)
Joker vs Genki: Will it be Written?
Edit
When will you get the Joker vs Professor Genki battle Written? Been waiting for quite a while. Shoot me back soon.
Undead RVD (talk) 05:38, February 7, 2013 (UTC)
My battle
Edit
Could you please vote on my battle http://deadliestfiction.wikia.com/wiki/User_blog:Mrweare121/The_mario_brothers_vs_Donkey_kong_and_Diddy_kong Mrweare121 (talk) 23:10, February 11, 2013 (UTC)Mrweare121
Last Day to Vote! 
Edit
JWarrior today is the last day to vote on my Battle
http://deadliestfiction.wikia.com/wiki/User_blog:So-Pro_Warrior/Season_1-Battle_8:_Battle_of_the_two_Forces_of_Good_Armies:_The_Systems_Alliance_vs._The_Grand_Army_of_the_Repubic
So if you want to give a vote todays the last day to do so.
The Warrior of the Universe So-Pro Warrior (talk) 17:44, April 16, 2013 (UTC)
Titlecard
Edit


I'm a real American! (talk) 21:51, November 16, 2013 (UTC)Utter noob